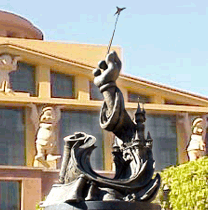 The Walt Disney Company inducted 11 new Disney Legends at a ceremony at the Burbank Walt Disney Studios yesterday. The Legends are chosen by a selection committee created by Roy E. Disney. The program honors gifted animators, Imagineers, songwriters, actors and business leaders as having made a significant impact on the Disney legacy.
There are now 227 Disney Legends, including the 11 inducted yesterday.
This year's inductees are:
Television pioneer Barbara Walters
Broadcasting legend Frank Gifford
Voice actor Wayne Allwine (Mickey Mouse)
Voice actress Russi Taylor (Minnie Mouse)
Disney Imagineer Bob Booth (Enchanted Tiki Room, New York World's Fair Pavilions, EPCOT and Tokyo Disneyland)
Disney Imagineer Neil Gallagher (Mr. Lincoln for New York World's Fair, Enchanted Tiki Room, Magic Kingdom, EPCOT, Disneyland Paris)
Representative director, chairman and CEO of the Oriental Land Company, Toshio Kagami
Animator Burny Mattinson ("Lady and the Tramp," "Sleeping Beauty," "101 Dalmatians," "Beauty and the Beast," "Aladdin," "The Lion King")
Animator Walt Peregoy ("Peter Pan," "Lady and the Tramp," "Sleeping Beauty," "The Sword in the Stone," "Mary Poppins," "The Jungle Book")
Disney Imagineer Dorothea Redmond (New Orleans Square, Fantasyland)
Musician Oliver Wallace ("Dumbo," "Cinderella," "Alice in Wonderland," "Peter Pan," "Lady and the Tramp")
Each honoree received a Disney Legends Award sculpture signifying the imagination, creativity and magic they have brought to the company. The new Disney Legends also participated in a hand-print ceremony. Congratulations to all and many thanks for your contributions to Disney magic over the years.
Hat tip The Disney Blog.