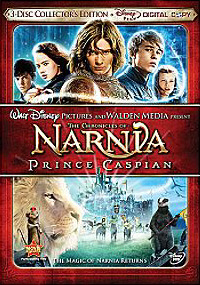 The second installment of C.S. Lewis' timeless epic has now been released on DVD and Blu-ray Hi-Def, bringing the fantasy adventure that has enthralled millions into homes across America in time for the Christmas holiday. Packed with interviews, exclusive featurettes as well as deleted scenes, the "Chronicles of Narnia: Prince Caspian" DVD is sure to be a DVD you will want to add to your collection.
Besides the full-feature length movie itself, the collector's edition Prince Caspian DVD will offer viewers several special bonuses.
Special audio commentary by director and actors
Behind-the-scenes interview with cast and crew
A tour of the film's locations and sets
An inside view of the technology and production behind the movie
Bloopers, deleted scenes and more
Get the Blue-Ray version and enjoy these additional features not available on the standard DVD:
An interactive Narnia game
"Circle-vision" interactive, which provides viewers with a 360-degree look behind the scenes of the castle raid sequence
"The Chronicles of Narnia: Prince Caspian" has a suggested retail price of $29.99 in the U.S. but is available at Amazon.com for half-price. The Collector's Edition, meanwhile, is $39.99 (43% off on Amazon), and the Blu-ray disc is priced at $35.99 (31% off on Amazon).
While I myself would love to add this to my collection, I think I'm going to wait until all seven installments of The Chronicles of Narnia are completed and available in some sort of box set, just as I did with The Lord of the Rings trilogy.
Still, if you can;t wait till Disney finishes production of several more films, the Amazon pricing is looking pretty good right now.
Related: Book your dream Disney vacation at Expedia.com!