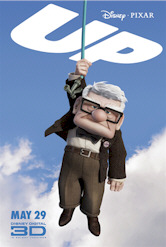 Four new videos previews from Disney / Pixar's "UP" are available for your viewing pleasure. UP, Disney / Pixar's first collaboration on a 3D film, is due to land in theaters on May 29th.
The story is based on 78-year-old Carl Fredricksen tying thousands of balloon to his home in his quest to fulfill a lifelong dream to see the wilds of South America. Right after lifting off, however, he learns he isn't alone on his journey, since Russell, a wilderness explorer 70 years his junior, has inadvertently become a stowaway on the trip.
Two of the videos (Meet Russell and Meet Kevin) are clips showcasing new footage from the film, while the other video (Discovering A Lost World) features director Pete Docter and studio head John Lasseter discussing the making of the film and its 3D component.
Meet Russell
Meet Kevin
Discovering a Lost World
For more information, visit official movie site for UP.