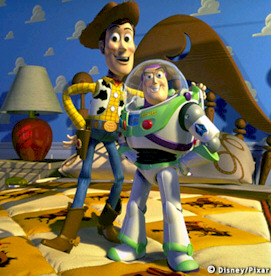 Along with the re-release of the first two Toy Story movies in 3D this October, Pixar's John Lasseter is taking fans behind-the-scenes in a new, exclusive seven-part YouTube video series that can be seen only at YouTube.com/DisneyLiving (1st of 7 videos embedded below), where he introduces the new Toy Story Definitive toy line, the most film-accurate replicas yet.
Each video will offer a different part of the story from Lasseter's own words to a profile on each character- including Sheriff Woody, Rex, Space Aliens, RC Remote Control Car and Buzz Lightyear- along with never-before known facts and more.
The toys themselves, developed by Thinkway Toys, are highly detailed replicas that are movie-accurate in almost every single way from their stitching to the boxes they come in. The Toy Story Definitive collectibles are fully articulated, include features such as sound effects and even come with a Certificate of Authenticity (COA).
The seven part series kicks off today and will air two new videos a week until the series is completed.
With no further ado, here is the first video.
As you will see in the video, John recommends that serious collectors buy two of each toy – one to keep new in the box and one of course to play with. I think that's great advice.