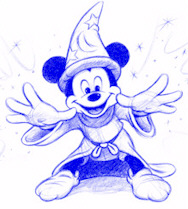 The list of Disney Honorees to be celebrated during this year's D23 Expo is impressive to say the least and includes Billy Crystal, John Goodman, Steve Jobs, and Dick Clark to name a few. I'm glad to see that Disney Imagineer Tony Baxter also made the list. These and many others will be honored at 2 p.m. on Saturday, August 10, in the D23 Expo Arena at the Anaheim Convention Center.
Here is the official pres release.
BURBANK, Calif. – July 10, 2013 – Monsters Inc. and Monsters University stars Billy Crystal and John Goodman, technology visionary Steve Jobs, television icon Dick Clark and other beloved contributors to the Disney legacy will be named and honored as official Disney Legends during the D23 Expo 2013 at 2 p.m. on Saturday, August 10, in the D23 Expo Arena at the Anaheim Convention Center.
The Disney Legends Awards program is a 26-year tradition of The Walt Disney Company. The three-day D23 Expo provides a rare opportunity for the public to be a part of the always touching and memorable presentation, hosted by noted television personality Tom Bergeron (host of ABC's Dancing with the Stars and America's Funniest Home Videos).
"The Disney Legend Award is our highest and most coveted honor," said Disney Chairman and CEO Bob Iger. "It's reserved for the extraordinary visionaries and artists behind the Disney magic, the men and women who push the limits of innovation and creativity to ensure Disney remains truly special. The eight Legends we honor this year helped create some of our most beloved characters along with exciting new worlds and thrilling attractions. They also entertained millions of people and expanded our definition of what's possible. They are all indelible parts of our legacy, and we are proud to recognize them as true Disney Legends."
The 2013 Disney Legends Award honorees (listed alphabetically) are:
TONY BAXTER has developed beloved Disney attractions including Big Thunder Mountain Railroad, Journey Into Imagination, Splash Mountain, and countless more over the course of his 43-year career with Walt Disney Imagineering. Revered by Disney fans, he is best known for his commitment to storytelling, attention to detail, and ability to develop new ideas and attractions by combining time-tested design practices with modern technology.
COLLIN CAMPBELL touched almost every part of the Walt Disney Company, from animated classics to legendary theme park attractions, with stints in live action film and television. Collin's work with Walt Disney Imagineering includes the development of Walt Disney's Enchanted Tiki Room, Pirates of the Caribbean, as well as concept illustrations of Magic Kingdom Park and Epcot Center.
DICK CLARK brought rock and roll to 40 million homes across the country with the national debut of American Bandstand on ABC in 1958. He went on to produce game shows, award shows including the Golden Globes® and the Academy of Country Music Awards, comedy specials movies, and other popular television specials. Dick might best be remembered, however, as the host of ABC's annual Dick Clark's New Year's Rockin' Eve from 1973 until 2011.
BILLY CRYSTAL is an acclaimed actor who lends his voice to Mike Wazowski, the frenetic, green cyclopean monster from Monsters Inc. and Monsters University. Best known for his memorable roles in When Harry Met Sally…, The Princess Bride, and City Slickers, Billy, who has won six Emmy Awards and one Tony Award, has also been a fixture on ABC television, where he hosted the Academy Awards® broadcast nine times and found his breakthrough role as Jodie Dallas on Soap from 1977-81.
JOHN GOODMAN is a celebrated actor of stage and screen, and the voice behind James P. Sullivan, better known as "Sully," from Monsters Inc. and Monsters University. Among John's notable film appearances are The Big Lebowski, The Flintstones, and most recently Argo and Flight. John's appearances in Disney-produced films include the Hollywood Pictures films Arachnophobia and Born Yesterday, as well as Touchstone Pictures' Stella, Coyote Ugly, O Brother, Where Art Thou, and Confessions of a Shopaholic.
STEVE JOBS changed the world of consumer electronics as the founder of Apple, and was known throughout the world for his visionary attitude and penchant for innovation. He was an early investor and chief executive of Pixar, and became the Walt Disney Company's largest shareholder overnight when it acquired Pixar Animation Studios in 2006. That same year, he joined the Disney board of directors, and remained a valuable sounding board and advisor to the company until his passing in 2011.
GLEN KEANE has brought to life many of Walt Disney Animation Studios' most popular characters. Since becoming a Disney animator in 1974, he has animated classic Disney characters such as Penny in The Rescuers, Elliott in Pete's Dragon, Ratigan in The Great Mouse Detective, the Beast in Beauty and the Beast, and the titular characters in The Little Mermaid, Aladdin, Pocahontas, and Tarzan. In 2010, Glen served as Executive Producer and Animation Supervisor for Tangled, a story he developed for more than ten years.
ED WYNN, a comedian whose career began on Broadway in the early 1900s, appeared in numerous Disney classics of the 1960s, including Mary Poppins, Babes in Toyland, That Darn Cat, The Absent-Minded Professor, and Son of Flubber. Fans of Disney animation know him as the manic and distinctive voice of the Mad Hatter in Alice in Wonderland.
Each honoree receives a two-foot-tall bronze Disney Legends sculpture that signifies the imagination, creativity and magic they have brought to the Company. Disney Legends Award recipients also participate in a handprint ceremony, and their bronzed prints will be displayed in the Disney Legends Plaza at the Company's Burbank headquarters.
Admission to the ceremony will be on a first-come, first-served basis and is included in the price of a ticket to the D23 Expo. In addition to the 4,000-seat D23 Expo Arena, the ceremony will be simulcast into a 2,000-seat overflow theater inside the Convention Center.
The first Disney Legend, actor Fred MacMurray (The Shaggy Dog, The Absent-Minded Professor, The Happiest Millionaire), was named in 1987. Including this year's honorees, a total of 237 Disney Legends have been named. Past Disney Legends include Tim Allen, Robin Williams, Julie Andrews, Howard Ashman, Regis Philbin, Annette Funicello, Peter Jennings, Angela Lansbury, Steve Martin, Alan Menken, Hayley Mills, Fess Parker, Sir Tim Rice, Dick Van Dyke and Barbara Walters. At the inaugural D23 Expo in 2009, the Legends Awards ceremony, which honored Robin Williams, Beatrice Arthur, Estelle Getty, Rue McLanahan, Betty White, Tony Anselmo, Bill Farmer, Harry Archinal, Don Iwerks and Leota Toombs Thomas, was presented to thousands of Disney fans for the first time.
Tickets and pricing information for D23 Expo 2013 are available at D23Expo.com Admission includes access to all experiences and entertainment at the D23 Expo and can be purchased for single days or for the full three days of festivities. Members of D23: The Official Community for Disney Fans will receive a discount on admission, as well as early entry to each day of the D23 Expo for themselves and their guests. More details about D23 Expo entertainment, events, and special guests will be announced in the coming weeks. Fans can keep up with all the news by visiting D23Expo.com or by following "DisneyD23" on Twitter and Facebook.
About D23 Expo 2013
The D23 Expo—The Ultimate Disney Fan Event—brings the entire world of Disney under one roof, providing attendees with unprecedented access to Disney films, television, and theme parks. For the latest D23 Expo 2013 news, visit D23Expo.com. To be part of the D23 Expo conversation, make sure to follow @DisneyD23 and tag your tweets with #D23Expo.
About D23
The name "D23" pays homage to the exciting journey that began in 1923 when Walt Disney opened his fledgling studio in Hollywood. D23 is the first official club for fans in Disney's nearly 90-year history. D23 gives its members a greater connection to the entire world of Disney by placing them in the middle of the magic through its quarterly publication Disney twenty-three; a rich website with members-only content at D23.com; member-exclusive discounts and special events for D23 Members throughout the year, highlighted by the D23 Expo in Anaheim, California, August 9–11, 2013. Fans can join for free at D23.com.
Fans can join D23 at D23.com and at www.DisneyStore.com/D23. To keep up with all the latest D23 news and events, follow us @DisneyD23 on Twitter, Facebook, Pinterest, and YouTube.