Disney Parks Blog has come out with some additional exciting details surrounding the current makeover portions of The Disneyland Hotel in Anaheim are receiving. They include enhancements to the pool area as well as the addition of two new dining establishments. The Dreams Tower (to be renamed Adventure Tower) has already been under renovation and is scheduled to be completed in 2010.
According to Disney Parks, the pool area is getting a whole new look, including a brand-new pool, all-new water play area and a complete redesign of the Never Land Pool. Plans also call for a new restaurant and bar, and re-theming of the hotel's two additional guest room towers.
The Pool Area
With a nod to the iconic original park signage, "Disneyland" will be spelled out in familiar blocks atop a platform supporting two huge water slides. The larger slide will be 26 feet high and will stretch 187 feet before it plunges into a splash pool below. Then reminiscent of the original Monorail station at the Disneyland Hotel, at each slide's entrance will sit a replica Monorail Car that guests will glide through as they twist and turn their way to the pool below. How cool! The pool will also feature a third, two-lane mini slide, perfect for little guests, which is just 3 1/2 feet high and is 19 feet long.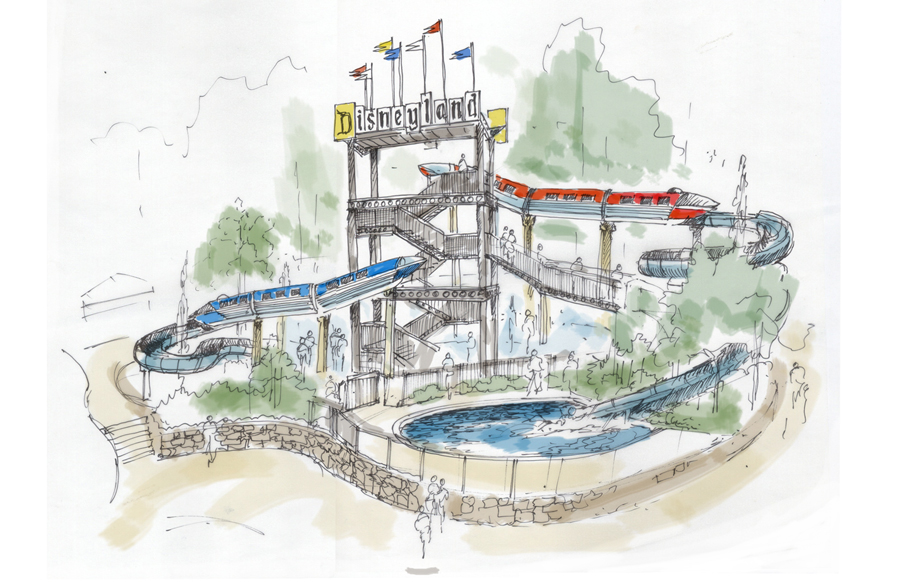 The Never Land Pool
This section of the resort will receive a complete cosmetic makeover but will retain its unique shape. A new, four-foot deep pool will be built between the Never Land Pool and the water play area. A footbridge will stretch over this new pool, connecting both sides of the courtyard area and giving easy access across the property (see illustration below). Additionally, six new cabanas will also be added.
Two new dining locations will be introduced in the current location of Hook's Pointe, Croc's Bites and Bits, the Wine Cellar and the Lost Bar. A new "smart casual" dining concept will feature Tahitian architecture that is reminiscent of the '50s and '60s era of the hotel and the original Tahitian Terrace restaurant in Disneyland park.
Finally, a  new bar will draw on the adventure theme from the Jungle Cruise attraction.
The new water play area, pool and dining locations are scheduled to be completed by summer 2011, and the remodeled Never Land Pool is slated to be completed by summer 2012. All makeover work on the two additional towers should be complete by 2012 as well.
So if you're planning a trip to the Anaheim resort in the next couple of years and want to stay at Disneyland Hotel, you might want to wait until all makeovers are complete so as to enjoy everything that is being put into place. In the meantime, should you still want to stay on property, there is the Grand Californian and Paradise Pier for your consideration.