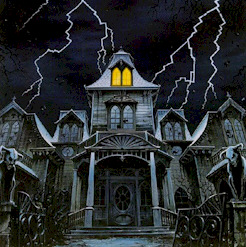 While not a huge fan of Halloween itself, I love some of the things that go along with Halloween – scary movies and Halloween candy to name a couple. But my all time favorite thing about this eerie holiday – haunted houses. And while Disney does the best haunted house as an attraction suitable for both children and adults, there are many haunted houses that pop up around this time of the year that are not for the faint of heart. In fact, many are too scary for most adults.
So, if you like me are a fan of haunted houses, here are thirteen you will not want to miss.
1. The Bates Motel and Haunted Hayride
Located in Philadelphia, Pennsylvania, The Bates Hotel and Haunted Hayride starts off with a 20 minute, heart pounding wagon ride through the deep, dark, haunted forest at Arasapha Farms, which is filled with ALL NEW incredible sets, computer controlled animations, and over 50 actors that creep out or fly over to spook even the bravest of souls.
After the hay ride, you'll want to check in at The Bates Hotel. Filled with high-tech special effects, digital sound track, and computerized lighting, The Bates Motel takes Halloween to the next level of horror… up close and personal! The Bates Motel is a no holds barred, high action, haunted house not intended for children under 8 or people with heart conditions. With incredible detail, and stellar acting, the Bates Motel is one of the best haunted houses in America.
2. The Darkness
Located in St. Louis, Missouri, The Darkness was voted as one of the scariest haunted houses in America by USA Today, Hauntworld.com, AOL.com, Yahoo.com, Ask.com, and Fangoria Magazine, and has been featured on Modern Marvels, National Geographic Channel, Travel Channel, Today Show, Fox News, and many, many more.
The Darkness is totally renovated each year and pushes the limits of reality. It is beyond a haunted house as it creates the experience of placing yourself in the middle of a big budget horror movie where you are the star of the movie.
3. Headless Horseman
Located in Poughkeepsie, New York, The Headless Horseman incorporates over forty-five acres of naturally landscaped property that includes foreboding woods, surreal ponds, fruit orchards and more. It has been named number 1 Hayride in America by American Airlines Magazine, as well as number 1 Haunted Attraction in the country by Haunt World Magazine, also receiving top ten national rankings from CNBC, AOL, USA Today, Fangoria Magazine and "named #1 on the Planet by The New York Daily News".
Headless Horseman is a theatrical experience like no other!  The attraction includes a one mile hayride, a labyrinth style corn maze, five professionally created haunted houses, four food concessions, as well as Ghoulish Gifts, Magic Moon Gifts, Scarewear and Witchy Woman gift shops.
4. Netherworld Haunted House
Located in Atlanta, Georgia, Netherworld Haunted House is not only one of the scariest haunted houses in Georgia and the Southeast, but one of the top haunted houses in the Nation. For 14 years this intense, cutting edge, multi story, multi attraction haunted event has thrilled and terrified visitors…regularly garnering national attention from the likes of CNN, AOL, the Wall Street Journal, and Hauntworld Magazine. Created by film and television professionals, Netherworld is also notable for its custom movie quality special effects, amazing actors, unique themes, and extremely detailed sets.
5. The Cutting Edge
Located in Forth Worth, Texas, Cutting Edge is filled with terrifying live actors, amazing special effects and incredible monsters. Celebrating its new Guinness World Record, this intense, multi-story, multi-themed haunted attraction is widely considered to be one of the best haunted houses in the nation, full of chilling detail and unbelievable scares.
Located in a 100-year-old abandoned meat packing plant in a section of Fort Worth historically dubbed as "Hell's Half Acre," the Cutting Edge is built upon a foundation of fear. Meat packing equipment from the Old West is still in use, but now it is a two-story human processing area. Realistic looking human mannequins are hoisted up to the second level and brought through the entire meat packing process until the conveyor system brings the butchered corpses back to the first level. It takes visitors an average 55 minutes to explore Cutting Edge.
6. House of Torment
Located in Austin, Texas, House of Torment is one of the most cutting edge haunted houses in America offering a horrific experience like no other and featuring three unique attractions offering patrons a variety of dynamic experiences.
The first attraction guests must brave is Nightmare Mansion, a theatrically driven horror escapade that takes customers through the macabre and demented experiments of an early 20th century physician, Dr. Incubus.  Second is House of Torment's main event, Revenge of the Immortals.  This nightmare takes customers deeper into the post apocalyptic wreckage of a war torn city where infected mutants, an abomination army, and predatory immortals prey on the living.  The 3rd and final attraction is a festival filled with entertaining atmosphere, large animations, and highly detailed monsters rounding out the average nightly staff at just under 100 people.
7. Kersey Valley Spookywoods
Located in Greensboro, North Carolina, Kersey Valley Spookywoods is a Halloween attraction park by night and offers hours of family bonding during the day at the Maize Adventure and Kersey Valley Zipline.  Spookywoods features over 130 live monsters, ghouls, goblins, zombies, sophisticated animations, high tech special effects, and much more.
8. The Dent Haunted Schoolhouse
Located in Cincinnati, Ohio, The Dent Schoolhouse  offers movie quality sets, intense detailing, and first-rate animatronics all inside an actual haunted schoolhouse from 1894.  You'll experience the story of the murderous janitor and how the school came to its grizzly demise.  The Dent Haunted Schoolhouse will shatter your fond memories of school and replace them with horrific, haunted nightmares of school-age days. With a cast of 50 plus monsters and award winning make-up artists, the crew of Dent will be happy to "school you" in fear!
9. 13th Gate Haunted House
Located in Baton Rouge, Louisiana, 13th Gate Haunted House offers 40,000 sq. ft.  of indoor and outdoor chills and thrills that will take you on a journey through 13 frightening themed indoor/outdoor sets where your worst nightmares come true.  Award-winning scenic artists, set carpenters, lighting and sound technicians, and special effects artists are just a few of the many crew members that make The 13th Gate the ultimate haunted experience.
10. The Asylum
Located in Denver, Colorado, The Asylum is brought to you by the same creators of the 13th Floor Haunted House and Nightmare Factory. As the storyline goes, within the walls of the legendary Nightmare Factory a hidden passage was unearthed. This passage descended two levels into Gordon Cottingham's Hospital for the mentally insane – The Asylum. Much deeper and darker than the previous levels, the Asylum is a damp and musty place infested with spiders, rats, snakes, and the endless screams of the tortured souls.
11. Erebus Haunted House
Located in Pontiac, Michigan, the haunt capital of the world, Erebus opened its doors in 2000 and has consistently gained recognition as one of America's top haunts.  Erebus is known for the way it engages its victims in an all out scare assault.  Because they personally manufacture nearly all of their major effects, guests are guaranteed a unique experience as they advance through the terrifying, four story labyrinth of dark, dank, dingy passages where your fate is unknown.
12. Nightmare on the Bayou
Located in Houston, Texas, Nightmare on the Bayou features several animations, sets, special effects, and acclaim actual ghost haunting.  It's built right next to one of Houston's biggest and oldest haunted graveyards, so to have supernatural visitors drop by from time isn't unusual.  Nightmare on the Bayou features one of America's largest Halloween costume shops, Party Boy, located directly next door.
Bonus: 13. Knott's Berry Farm Halloween Haunt
Located in Beuna Park California, each year around Halloween time, the famous Knott's Berry Farm transforms itself into "Knott's Scary Farm." While not your typical stand-alone "haunted house," Knott's annual Halloween Haunt does continue to be the leader in theme park Halloween events offering a whopping 13 haunted mazes, seven hair-raising shows, three horrific scare zones and 1,000 roaming monsters roaming throughout the entire park.
=========================
There you have it! Did I miss any of "the best of the best?" If so, please do share with us additional top notch haunted house attractions around the country in the Comments section of this post.