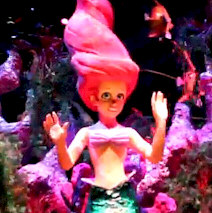 Spoiler Alert: If you do not want to see what awaits you in California Andentures' newest attraction, "The Little Mermaid: Ariel's Undersea Adventure," then leave right now. However, if you are the curious sort such as I and realize that even if you get a video preview of the ride, it still won't spoil experiencing the attraction in person, then continue on.
Disney's newest dark ride attraction is based on the film The Little Mermaid and scheduled to officially open June 3, 2011. CM previews for the ride took place between May 20-26, which have been followed by a preview for annual passholders, and then possible guest soft-openings leading up to the June grand opening.
So no doubt the first full ride video I have come across came from one of these sources. The attraction itself incorporates an Omnimover ride system, very similar to the one currently in use at the Haunted Mansion. In this manner, Disney Imagineers can rotate the ride vehicles to show guests what they want them to see any any point in the ride.
With no further ado, here is "The Little Mermaid: Ariel's Undersea Adventure" full ride video shot by YouTube user Asianjma123.