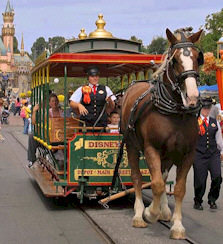 I always love anything "behind-the-scenes" at Disneyland. I've even been tempted several times to sneak into backstage areas at the park but have not succumbed to temptation just yet. Maybe it's the fear of being tossed out of the park or simply not really wanting to spoil all the magic.
That is why I love this "sneak-peek" Disney Parks Blog released today of the Circle D Corral: the place where Disneyland horses live.
A few fun facts about the corral before getting to the video:
The ranch is currently home to 28 horses, a jersey cow, two miniature donkeys, three turkeys and 15 goats.
Forty-eight cast members work at the ranch.
All the horses are large, "draft" horses (horses that are adapted to pull heavy loads).
The following breeds of horse are represented at the corral – Percheron, Clydesdale, Belgian and Shire.
No Disneyland horse works more than 4 hours a day, 3 days a week.
Like all cast members, the horses at Disneyland park always wear their name tags when they are working.
With no further ado, check out this cool video.