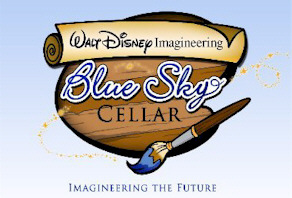 Blue Sky Cellar is scheduled to open Monday, October 20 and will be a preview center of what is new and what is in store for the expansion of the Disneyland Resort. It is to be located in the former Seasons of the Vine Theater in the California Adventure theme park located in Anaheim, California. Guests will be able to view working models as well as dozens of concepts and sketches from Disney Imagineers, the creative minds behind the design and construction of Disney theme parks and attractions.
Blue Sky Cellar will allow guests to preview for the first time works in progress at Disneyland Resort by immersing themselves in a facsimile of an Imagineering workspace. Based on the belief that idea gathering is best when "the sky's the limit," the Blue Sky Cellar is designed to resemble an Imagineering "charette," an extended creative idea development meeting. Guests receive an inside-look at how Imagineers take "blue sky" ideas and refine them into the classic storytelling that characterizes Disney Theme Park attractions and adventures.
Guests will view several new attraction models, including the newly envisioned Paradise Pier area with its turn-of-the-20th-Century look, ride vehicle maquettes from Toy Story Mania!; and the new character overlays to the Games of the Boardwalk. Special features include updates and character additions to attractions such as Mickey's Fun Wheel (an enhancement of the current Sun Wheel) and Silly Symphony Swings (a refreshed and rethemed Orange Stinger).
Additionally guests will see sketches and artwork line the walls including images of the new entrance area, soon to be known as Buena Vista Street, which will bring to life a nostalgic look at Los Angeles from the 1920s and 30s when Walt Disney first arrived in California; a Red Car trolley, reminiscent of the Pacific Electric Railway; and a new central plaza area including a replica of the Carthay Circle Theatre, where Walt premiered Snow White and the Seven Dwarfs.
The "coming soon" area features images of Disney's World of Color and The Little Mermaid attraction, and looks even further ahead to Cars Land, a 12-acre expansion of the Park which will bring to life the town of Radiator Springs from the Disney?Pixar animated film Cars, complete with three new attractions for the whole family. Guests in Blue Sky Cellar will have fun testing their knowledge of Disney trivia at one of the interactive workstations.
If that was not enough, there's more. A screening room will feature Imagineers describing the approach and vision of the Disney California Adventure expansion. Guests will see footage of model-making, sculpting, blue sky meetings and all the aspects of bringing a Disney concept to life.
To get just a small glimpse of what you might expect, check out the three videos below.
Imangineer's Presentation
Video in Screening Room
Paradise Pier Model
Related: Book your dream Disney vacation at Expedia.com!