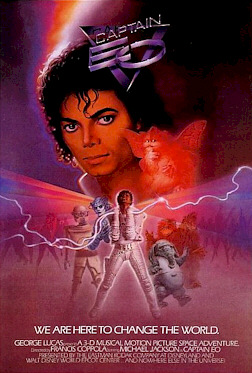 Rumors have been swirling since Michael Jackson's death that Captain EO, the groundbreaking 17-minute 3D film experience that thrilled Disneyland park guests from 1986 – 1997, would return to to Disnleyland. However, none of those rumors have been confirmed… that is until today.
Now we learn form The official Disney Parks Blog that Captain EO will return for an exclusive, limited engagement at Disneyland park beginning in February 2010.
"The attraction's return to Tomorrowland will provide new audiences the opportunity to experience the original 3D production for the very first time, as well as a nostalgic look back for longtime fans wanting to see 'The King of Pop' in a rare performance created for the big-screen, just one more time, writes Heather Hust Rivera of Disney Parks Blog.
In the meantime, "Honey I Shrunk The Audience" will be closing sometime in the next few weeks to make way for the Captain's return.