The Disney/Pixar animated movie "Cars" introduced some iconic characters – Lightning McQueen, Doc Hudson, Sally Carrera and of course the lovable Mater. The sequel to the ever popular Cars animated movie will bring back some of our favorites, including Lighting McQueen and Mater, as they head overseas to compete in the first-ever World Grand Prix. Cars 2 will introduce several new characters as well. Let's meet some of them right now.
Acer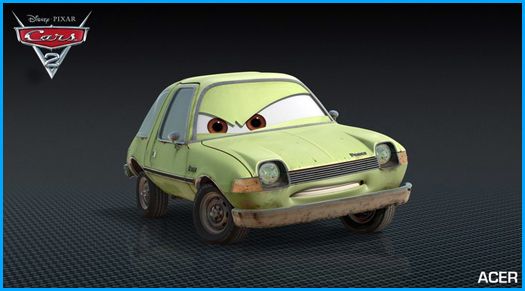 Acer (played by Peter Jacobson) has always felt like an outcast in the car world. The beat-up green AMC Pacer joined forces with fellow 'lemon' cars as henchmen for the devious Professor Z, whose clandestine mission is to wreak havoc at the highly visible World Grand Prix. Acer must hunt down the American and British secret agents who've stolen crucial information about Professor Z's underhanded plot-his primary target just happens to be Mater.
Sir Miles Axlerod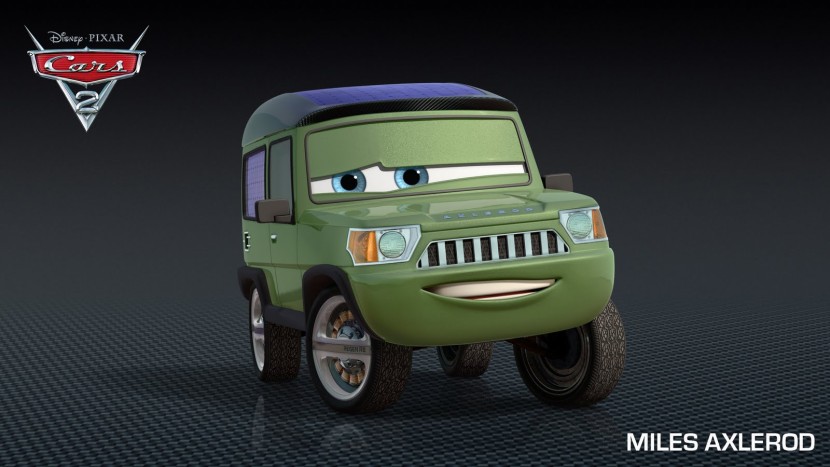 Sir Miles Axlerod (played by Eddie Izzard) is a former oil baron who has sold off his fortune, converted himself into an electric vehicle and has devoted his life to finding the renewable, clean-burning energy source of the future—ultimately discovering what he believes is the fuel everyone should be using. Axlerod is also the car behind the World Grand Prix, a three-country race he created that attracts the world's top athletes—but it's really an excuse to show off his new wonder-fuel, Allinol.
Francesco Bernoulli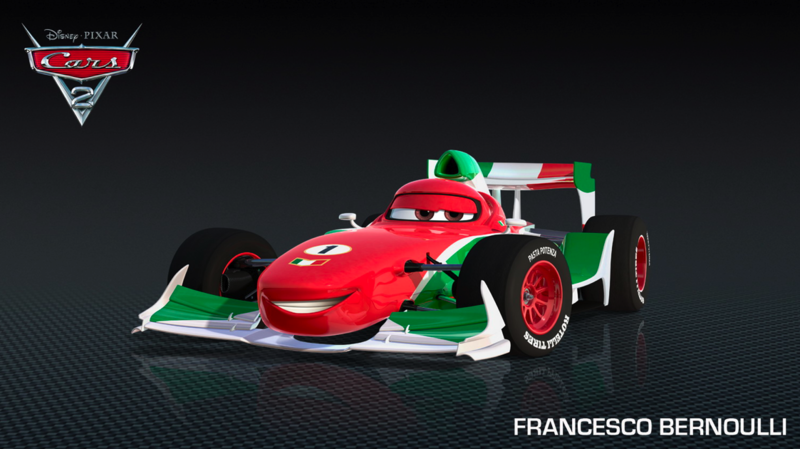 Francesco Bernoulli (played by John Turturro) grew up in the shadow of the famous Monza race course in Italy where he and his friends would sneak onto the track and race the famous Pista di Alta Velocita bank turn. He was an instant winner on the amateur circuit and soon became an international Formula Racer champion. The ladies love Francesco's open wheels, youngsters look up to his winning spirit and fellow racers envy his speed. But Francesco's biggest fan is Francesco himself, as evidenced by his racing number. As the most famous race car in Europe, #1 Francesco is a favorite to win the World Grand Prix, which also makes him Lightning McQueen's chief rival.
Raoul ÇaRoule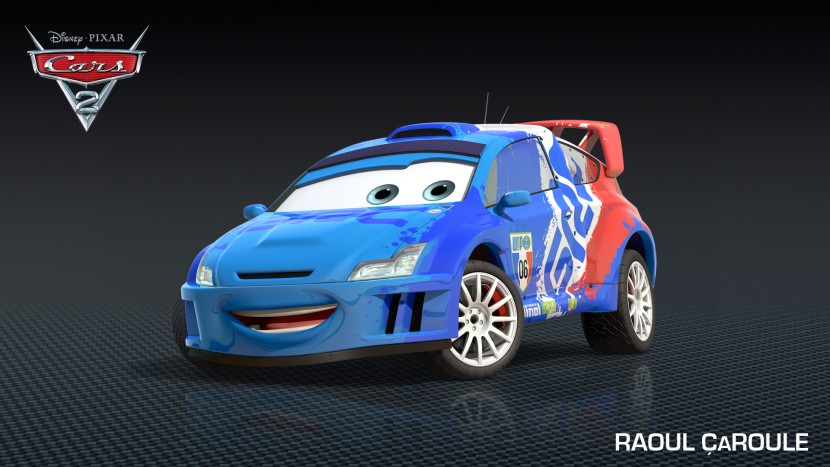 Known as the "World's Greatest Rally Car," #6 Raoul ÇaRoule was born in Alsace, France. A restless soul, Raoul joined the famous 'Cirque du Voiture' French circus where he learned Gymkhana – a graceful, drift-filled motorsport that taught him pinpoint timing and an unparalleled ability to navigate tricky courses with ease. He's the first car to ever win nine consecutive rallies. Raoul is confident he can use his rally experience to pull ahead of his fellow World Grand Prix racers during the three courses' touchy dirt sections, especially with his fans in the stands waving banners that read: "ÇaRoule Ca-Rules!"
Rip Clutchgoneski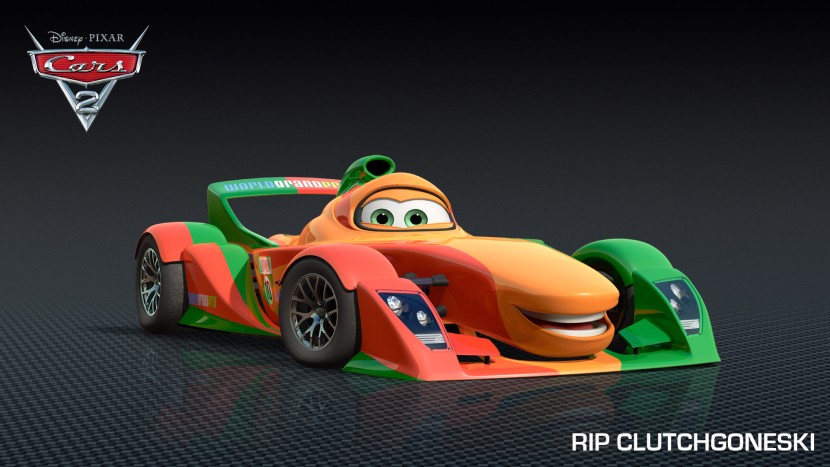 The former European colony and newly independent Republic of New Rearendia is desperate to put their name on the map – the #10 open-wheeled racer Rip Clutchgoneski is their best bet. After putting together a remarkable string of qualifying races, Rip's entry into the World Grand Prix is clearly the Cinderella story of the competition. Though Rip credits luck for his chance on the international stage, it's really skill and exuberance that brought the proud New Rearendian racer to the starting line.
Nigel Gearsley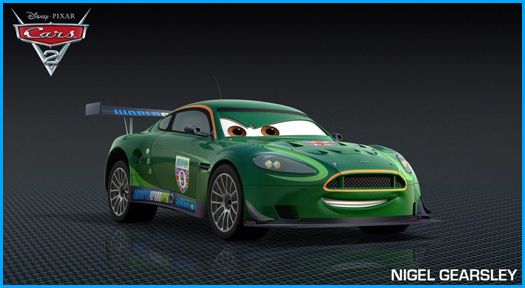 Nigel Gearsley from Warwickshire, England, is an Aston Martin DB9R racer bearing #9. He got his start racing the Speed Hill Climb—a unique, completely uphill race through the Aston Hill Mountain Area that his family has run for generations. Nigel's racing career has been anything but an uphill challenge, as he's won nearly every start in the past few years on the Grand Touring Sports Car circuit, including a string of podiums at Nurburgring and Le Mans.
Grem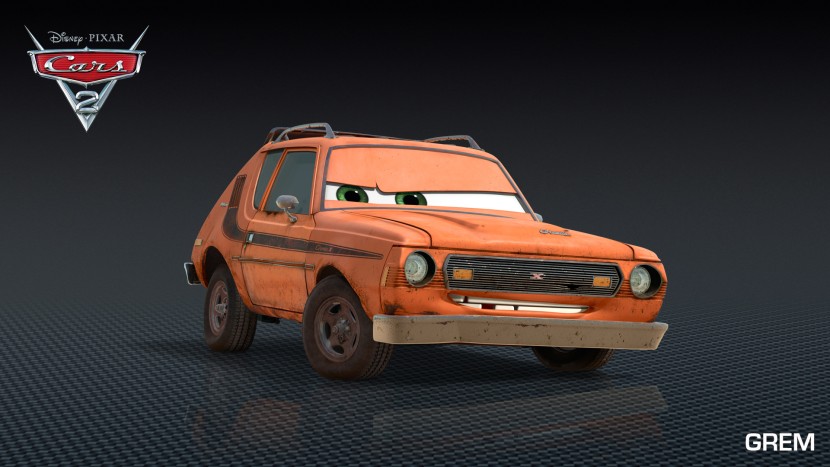 Grem (played by Joe Mantegna) is a dented, rusty orange AMC Gremlin. After years of being dismissed for his design, even being called a "lemon," Grem has a big chip on his fender that has led him to the underworld of international espionage. As a henchman for a villainous boss Professor Z, Grem and his partner-in-crime Acer are trying to sabotage the World Grand Prix and the famous race cars competing in it. When Grem and Acer mistake Mater for an American agent with important top-secret information, the ruthless lemons set out on a round-the-globe chase to stop Mater from foiling their evil scheme.
John Lassetire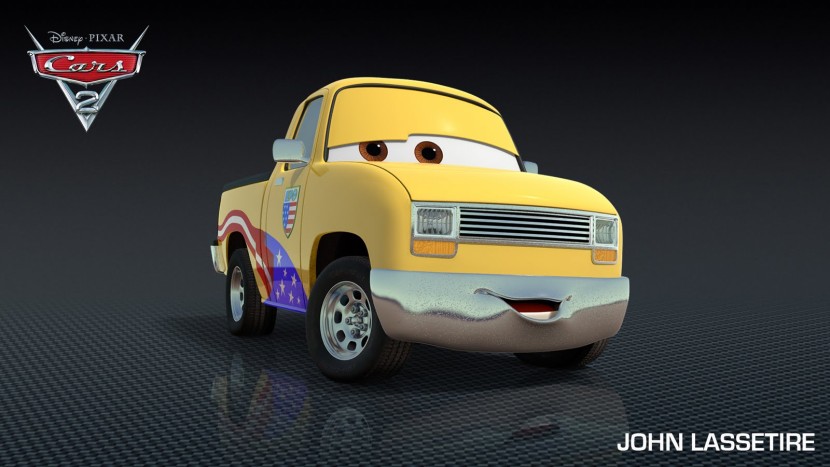 John Lassetire (played by John Lassetire) is an all-American pick up truck, who will be serving as the pit crew chief for Jeff Gorvette in the World Grand Prix.
Finn McMissile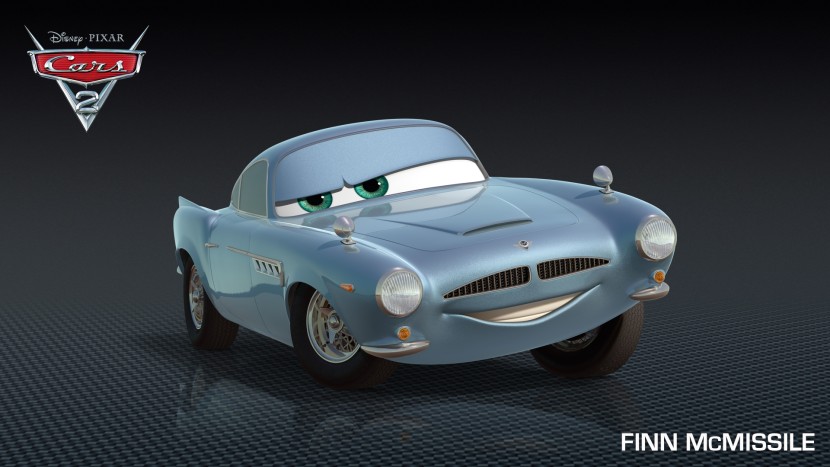 Finn McMissile is a master British spy. Though charming and eloquent, it's his stealth maneuvering, intelligence and years in the field that enable him to thwart unexpected attacks from bad guys, making quick daredevil escapes. Finn's design is sleek and timeless, but he's also prepared for any tricky situation with an arsenal of ultra-cool gadgets and weaponry, including front and rear grappling hooks, a missile launcher, deployable magnetic explosives and a holographic disguise emitter. As a seasoned professional in the game of international espionage, Finn believes there is a conspiracy brewing during the World Grand Prix. His clandestine work surrounding the global exhibition race puts him on a collision course with Mater, whom he mistakes for an undercover American agent with a genius disguise.
Rod 'Torque' Redline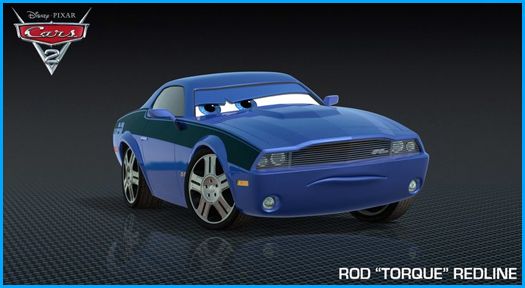 Rod 'Torque' Redline (played by Bruce Campbell) is considered by many as the greatest American spy in the world. Recruited after the Cold War for both his brains and brawn, Torque is a tough-as-nails Detroit muscle car with a mastery of disguises. In his latest deep-cover operation, he obtained vital information about the plot to sabotage the World Grand Prix. So Rod plans a rendezvous with his British counterparts to share his discoveries at the World Grand Prix welcome reception in Tokyo, Japan.
Holley Shiftwell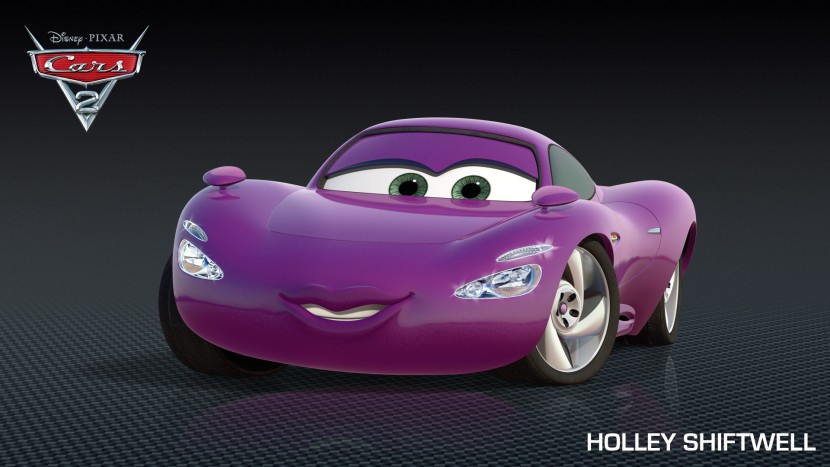 Holley (played by Emily Mortimer) is a beautiful young British desk agent, turned spy-in-training who is stationed in Tokyo. Well-educated and sharp, she knows every trick in the book (or rather, she relies on every trick in the spy manual). She is armed with the latest state-of-the-art spy equipment imaginable, from hidden cameras and concealed weapons to a telescoping utility arm and a holographic pop-up display. Holley is a highly motivated agent, but is fresh out of the academy, so her experience is based on lessons learned in school rather than real-life situations. When Finn McMissile requires Holley's technical expertise for his latest top-secret field operation, she finds herself pursuing a rendezvous with the most unlikely candidate — Mater, an innocent caught up in the intrigue, who's mesmerized by the beauty of his newest friend.
Siddeley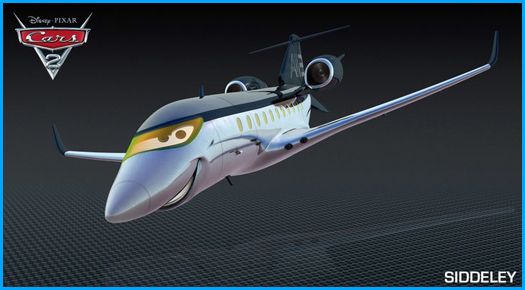 Siddeley (played by Jason Isaacs) is a state-of-the-art British twin-engine spy jet. At 176 feet from nose to tail and an impressive 157-foot wingspan, the super sleek silver-bodied Siddeley streaks through international skies at record-breaking mach 1 speeds. Outfitted with all the latest in high-tech spy equipment, including cloaking technology, defensive weaponry and afterburners, Siddeley is Finn's steadfast partner-in-fighting-crime around the globe.
Shu Todoroki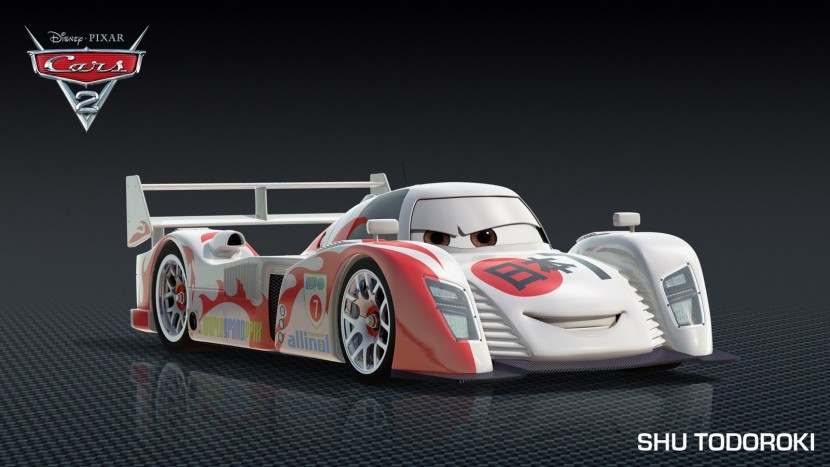 Shu Todoroki is a Le Motor Prototype racer representing Japan and bearing #7 in the World Grand Prix. Shu was raised at the base of the active Mount Asama volcano in Japan, and soon became a champion on the Suzuka Circuit. His sleek design sports a fiery red Ka-Riu dragon, which Shu borrowed from Japanese legend because he relates to the small, yet fierce nature of the dragon. His team legacy is filled with victories – his coach, a Mazda, was the only Japanese car to ever win at Le Mans – and Shu hopes to prove his champion-level racing on the international stage of the World Grand Prix.
Tomber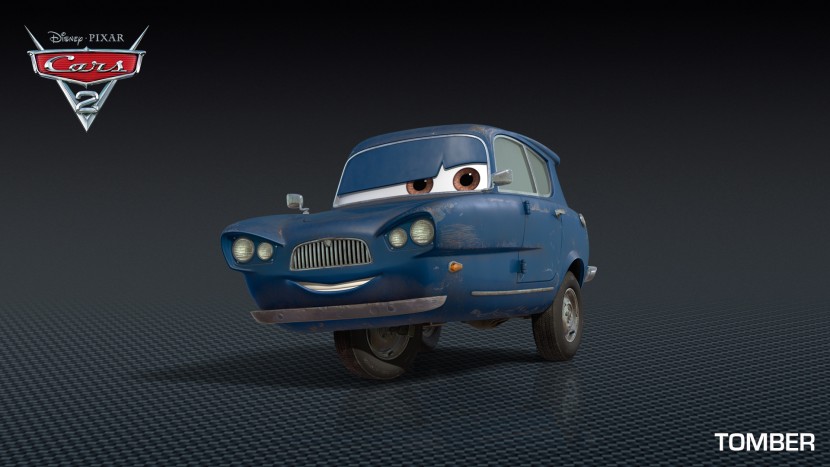 Tomber (played by Michel Michelis) is a dubious little French car with an unusual, and very unstable, three-wheeled design that befits the meaning of his name – to fall. By trade he deals car parts from a stall in a Parisian market—though his questionable merchandise sources have led to his reluctant acquaintance with British secret agent Finn McMissile.
Mama Topolino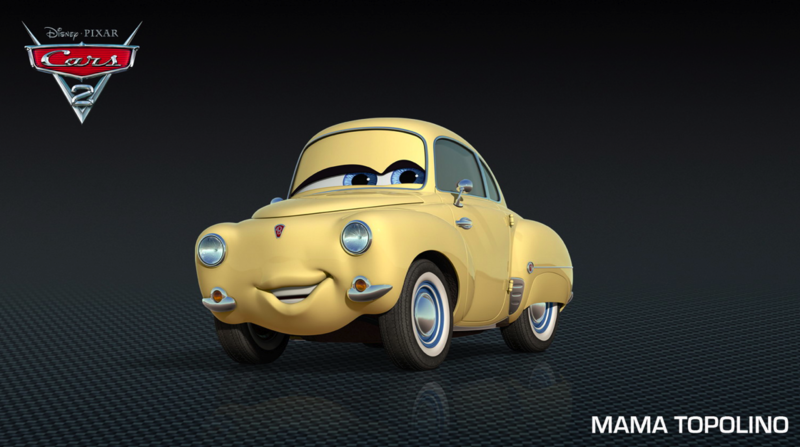 To all who know her, Luigi's aunt, Mama Topolino (played by Vanessa Redgrave), is a masterful cook with the best fuel in the village of Santa Ruotina, near Porto Corsa, Italy. Though she has a loving, but fiery relationship with her husband, Uncle Topolino, she shows her love and generosity for both family and friends by feeding everyone her renowned delizioso fuel.
Uncle Topolino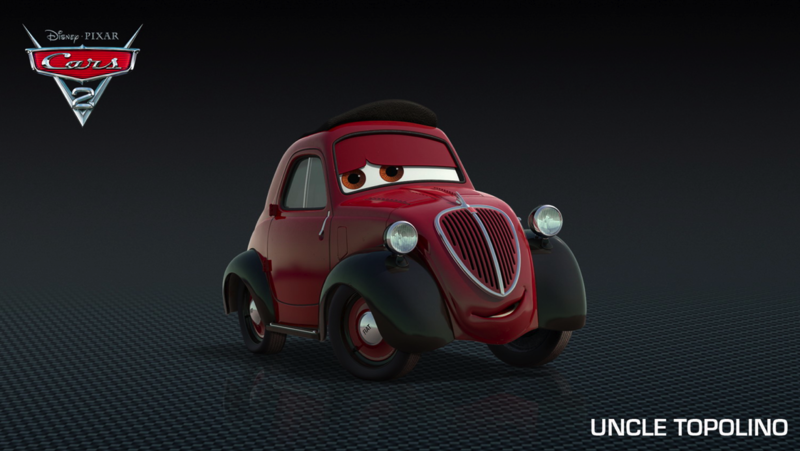 In the small village of Santa Ruotina, near Porto Corsa, Luigi's favorite uncle, Uncle Topolino (played by Franco Nero), resides with his beloved wife, Mama Topolino. Uncle Topolino is the owner of the village's tire shop, where he taught Luigi and Guido everything they know, though Uncle Topolino is full of sage advice about more than just tires.
Carla Veloso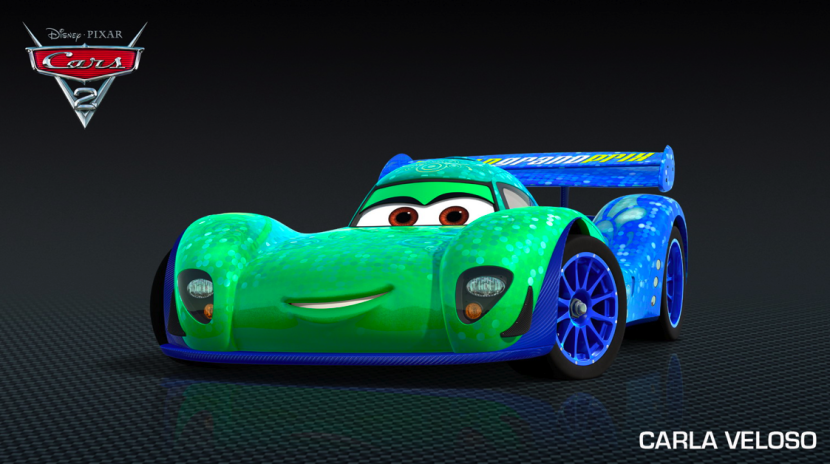 Carla hails from Rio de Janiero, Brazil where she's been known to dance the night away at the famous 'CAR-nival' but nothing makes her happier than being on the racetrack. Carla was drafted into the 24-hour endurance racing team in Europe after setting a new track record on her local circuit. Now, in the World Grand Prix, this proud Brazilian Le Motor Prototype racer, wearing #8, is the only female in the field.
Professor Z (short for Zündapp)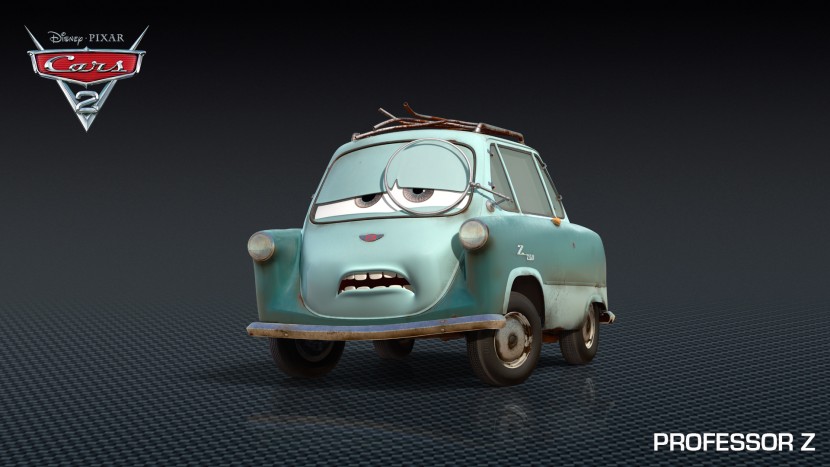 Professor Z, aka "The Professor," (played by Thomas Kretschmann) is an internationally wanted weapons designer in a small, sophisticated German package. He is a brilliant, but mad monocle-wearing scientist who is plotting to sabotage the World Grand Prix. Though his true motive is unclear, Professor Z is willing to do whatever it takes to eliminate all obstacles and keep the "project" on schedule.
================================
Cars 2 is scheduled in theaters June 24th, 2010.