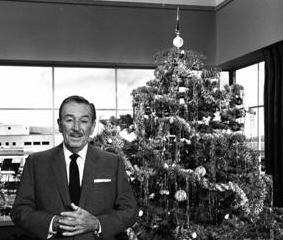 The holidays are a special time around Disney parks and the schedule of events planned for The Walt Disney Family Museum is no exception. "Christmas With Walt Disney," "A Tribute to Art Linkletter" and "Artists' Vocal Ensemble: A Candlelight Christmas" are just a few of the special events that will take place during the month of December at the museum.
Read on for the full schedule and all the details.
December 2010 Schedule of Events
FILM OF THE MONTH – November 26-December 31
Christmas with Walt Disney
1:00pm and 4:00pm daily, Theater
(except Tuesdays, December 5, December 11 and December 25.)
Produced  exclusively  for the Museum by Don Hahn, (The Lion King and Beauty and the Beast) this special holiday screening includes The Nutcracker Suite from Fantasia (1940), Pluto's Christmas Tree (1952), scenes from the television Christmas specials, and rarely-seen home movies of Walt and his family.  See how Walt celebrated Christmas at the studio, at Disneyland, and at home!
December 5 – Memories of Walt: A Conversation with Legends
3:00pm, Special Exhibition Hall
Join us on Walt's birthday as we hear from Disney Legends who worked directly with him. Alice Davis, costume designer for Disney films and attractions, and Animator Marc Davis's wife, and Marge Champion, a dancer, choreographer & live-action reference model for characters such as Snow White, Pinocchio's Blue Fairy and more—will be with us to discuss, celebrate, and honor Walt Disney. Don't miss this unique opportunity to hear from these legendary women!
December 11 – A Tribute to Art Linkletter
3:00 pm, Theater
Celebrate the life and career of one of America's most popular television hosts—he hosted the live broadcast of the opening day of Disneyland!—and a great friend of Walt Disney's: Art Linkletter! Author and historian Don Peri will talk with Art's daughter, Sharon, about what it was like to grow up in the LInkletter household.
MUSIC
December 18 – Artists' Vocal Ensemble: A Candlelight Christmas
4:00pm and 6:15pm, Special Exhibition Hall
Join us for an evening of Christmas songs and carols. This hour long program will include contemporary American carols, anthems, and will conclude with a festive family sing-a-long. A perfect way to celebrate the holiday season.
DECEMBER DISNEY DISCOVERIES! + LOOK CLOSER SERIES
DISNEY DISCOVERIES: Second Saturday of each month
December 11 – Disney Discoveries!
1:00 pm – 3:00 pm, Learning Center Art Studio
Join us in the holiday spirit and bring your creativity! We will be making holiday ornaments that you can hang from your tree or window.
Imaginations and creativity will soar with our new Disney Discoveries! The second Saturday of each month, join us for family fun and activities in the Learning Center.  The activities planned by our education staff will inspire the hidden artist in young visitors while learning about the life and work of Walt Disney.
LOOK CLOSER:
December 17, 18 + 19 – Look Closer: Walt's Skis
11:00 am and 3:00 pm, Gallery 3
Walt was an avid skier, and in the Disney short starring Goofy—"The Art of Skiing"—you can even see influences of Walt in the Goof himself! Join us in Gallery 3 on December 17, 18 +19 to learn more about Walt Disney's skis and his love for this snowy sport.
Would you like to know more about one of the artifacts in the galleries?  Our Look Closer series will give you that opportunity—staff will reveal little known facts, behind the scenes information, or just additional information during the 5 to 8-minute gallery talk.
The Walt Disney Family Museum is located at 104 Montgomery Street, The Presidio of San Francisco in San Francisco, CA 94129. For more details, visit the official web site at www.waltdisney.org