D23,  Disney's official fan club has announced new experiences and surprises in 2011 to entertain and delight its growing membership. Some of the offerings include D23 studio tours throughout the year, four free 50 and Fabulous film screenings on the Walt Disney Studio Lot in Burbank and much, much more.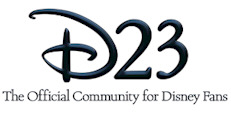 Here is the official press release:
BURBANK, Calif. – December 2, 2010 – D23: The Official Disney Fan Club is pleased to announce the coming year's slate of special events, designed especially for its diverse and growing membership base.
Among the exciting offerings for 2011 are exclusive D23 Studio Tours throughout the year, four free 50 and Fabulous film screenings on the Walt Disney Studio Lot in Burbank, D23's Great Disney Scavenger Hunt: Walt Disney World, the highly anticipated Destination D: Walt Disney World 40th, the perennial favorite Sip & Stroll event during the Epcot International Food & Wine Festival, a D23/Disney Junior Jake and the Never Land Pirates event on the Burbank Studio Lot for the budding Disney fan, the festive Magic and Merriment event at the Walt Disney World Resort to kick off the holiday season and, of course, D23 Expo 2011.
D23 Members receive advance notification of all special events through D23's biweekly FanFare email, and all events are offered on a space-available basis. More details on events, and on becoming a D23 Member, can be found at www.D23.com.
SAVE THE DATES!
D23's 2011 special event lineup includes:
January 29: Special preview screening of Jake and the Never Land Pirates featuring David Arquette
D23 is partnering with Disney Junior — Disney Channel's new broadcast initiative designed for kids ages 2 through 7 – inviting D23 Members to bring their young swashbucklers for an advance screening of two episodes of Jake and the Never Land Pirates, a new animated series coming to television this February.
David Arquette is the voice of Skully, the parrot who keeps an eye out for Jake and his crew of kid pirates as they navigate the familiar waters of Never Land while dodging the devious Captain Hook and Mr. Smee.
Following the screening of the two 11-minute episodes, Arquette will sit down for a Q&A with D23's Disney Geek, Jeffrey Epstein, and will also take questions from the audience. Afterwards, the villainous Captain Hook will be available for photos and autographs in front of the Studio Theatre.
May 12-13: D23's Great Disney Scavenger Hunt: Walt Disney World
In spring 2011, for the first time in the 40-year history of Walt Disney World, guests will have the chance to scour all four Florida theme parks to win incredible prizes in this official Disney scavenger hunt. Each team will consist of 2-4 participants, and additional rules and registration information will be available soon at the D23 Web site.
May 14-15: Destination D: Walt Disney World 40th
Following the rave reviews of Destination D: Disneyland '55, this event will celebrate the 40th anniversary of the Orlando resort, commemorating its history and heritage. Panels will include all-new presentations that build upon the successful panels at the Anaheim event, including:
"Walt Disney World: The Way We Were," hosted by Disney Legend Dave Smith
"Weird Disney World" with Walt Disney Archives Director Becky Cline
"Walt Disney World Through the Eye of Television"
A special evening event featuring musical memories from throughout the history of Walt Disney World
Other panels, featured speakers and details will be announced soon on the D23 Web site.

August 19-21: D23 Expo 2011 in Anaheim, California
Affectionately dubbed "The Ultimate Fan Event" by Disney enthusiasts, the D23 Expo brings the entire world of Disney under one roof, providing attendees with unprecedented access to Disney films, television and theme parks as never before. An event that only occurs every other year, this is the first D23 Expo since the premiere event in 2009.
Highlights of D23 Expo 2011's weekend activities will include:
2011 Disney Legends. Paying tribute to the talented men and women who have made indelible contributions to Disney entertainment
Treasures of the Walt Disney Archives. Featuring dozen of props, artifacts and costumes, accessible to the public for the first time in Disney's history
Collector's Forum. Where attendees can buy, sell and trade precious memorabilia and merchandise
Fan Art Contest. Themed to 101 Dalmatians in honor of the 50th anniversary of the animated classic
The Ultimate Disney Trivia Tournament will allow participants to demonstrate their Disney knowledge as they compete for outstanding prizes
Many more one-of-a-kind D23 Expo panels, presentations and experiences which will be announced in the coming months.
October 14-15: Sip & Stroll at Epcot in Orlando
As part of the Epcot International Food & Wine Festival, D23 is once again hosting their annual Sip & Stroll event exclusive to D23 Members. More details will be announced in 2011.
December 17-18: Magic and Merriment at Walt Disney World in Orlando
D23 brings back its annual holiday tradition celebrating the spirit of the season, exclusive for D23 Members. More details will be announced in 2011.
50 and Fabulous Screenings
At D23 Expo 2009, Disney fans were invited to view Disney film masterpieces that were celebrating their golden anniversaries — beloved animated classics and live-action family friendly films rarely seen on the big screen in the past 50 years. The D23 tradition continued in 2010, this time in the recently renovated, state-of-the-art 400-seat Studio Theatre on the Walt Disney Studio Lot in Burbank.
The 2011 season of 50 and Fabulous begins January 22 on the Burbank Lot. Tickets to the screenings are free (with a $5 ticket processing fee) for D23 Members and one guest, and will include special D23 surprises. The schedule is as follows:
January 22:  101 Dalmatians – Released originally January 25, 1961, the smash hit was rereleased in 1969, 1979, 1985 and 1991. Along with the memorable song "Cruella de Vil," 101 Dalmatians is known for originating the term "Twilight Bark" (the system which dogs across the countryside use to communicate with one another), which also happens to be the name of the quick news bits section of the D23 Web site!
March 12:  The Absent-Minded Professor

– Originally released March 16, 1961, the film stars Fred MacMurray — the first Disney Legend — as Medfield College's Professor Ned Brainard, the inventor of the magical Flubber. The film also features the "Medfield Fight Song," the first song ever penned by Richard and Robert Sherman for a Disney movie.
June 18:  The Parent Trap – Originally released June 21, 1961, the film was lauded not just for its imaginative story but for its technical advances. Disney legend Hayley Mills plays both twins Sharon and Susan, separated as children by their divorced parents, who set in motion a plan to reunite their estranged parents. The Parent Trap earned Academy Award® nominations for editing and sound.
Nov 19: Babes in Toyland – Starring Ray Bolger, Annette Funicello, Ed Wynn, Tommy Sands, Ann Jillian, Tommy Kirk and Kevin Corcoran, Babes in Toyland was released December 14, 1961 and has become a holiday favorite. Revisit Tom (Sands) and Mary (Funicello) as they prepare to wed in Mother Goose Village while dodging the evil Barnaby (Bolger). The Forest of No Return, an incredible gun that shrinks its targets and, of course, the many beloved songs, are all part of this magical adventure.
D23 Tours at the Walt Disney Studios and Archives
D23 continues to offer this rare opportunity for D23 Members to enjoy a two-and-a-half hour tour of The Walt Disney Studios and Walt Disney Archives, hosted by D23 and Walt Disney Archives staff. Space is very limited. The 2011 tour dates are:
February 5
April 30
July 23
November 5
As with all live events, dates and times are subject to change. D23 is in the planning stages for even more exciting 2011 activities, details of which will be revealed in the coming months.