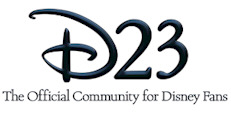 Bob Iger recently announced at the Walt Disney Company shareholder's meeting that the D23 Expo will return in 2011,  but to add to the excitement for D23 members this year, the official Disney fan club is introducing a brand-new event called "Destination D" which will be held this September in Anaheim, illuminating Disney's fascinating and rich history.
Full information is included in the official press release below.
DISNEY'S D23 CELEBRATES DISNEYLAND'S 55TH ANNIVERSARY WITH ALL-NEW, TWO-DAY DESTINATION D EVENT
2011 Dates for D23 EXPO Also Announced as the Official Community for Disney Fans Marks First Year
BURBANK, Calif. – March 10, 2010 – It's a milestone year for the Disneyland® Resort, and D23: The Official Community for Disney Fans is celebrating with the premiere of DESTINATION D, a brand-new, two-day event exclusively for D23 Members that illuminates Disney's fascinating history.
D23 announced its latest members-only event on its first anniversary – capping a year in which Disney's first-ever fan community grew to encompass tens of thousands of members from all 50 U.S. states and more than 30 countries worldwide.
The inaugural DESTINATION D, whose theme is "Disneyland '55," will be held this Sept. 24-25. DESTINATION D: Disneyland '55 will take D23 Members on a journey through the design, creation, debut and magical history of the world's first Disney theme park. The first DESTINATION D will be held in the Grand Ballroom of the Disneyland Hotel.
DESTINATION D: Disneyland '55 will offer two full days of special presentations, panels, screenings and guest speakers that let fans meet and talk with key figures in Disneyland's history. Future DESTINATION D events will explore other important aspects of Disney's creative legacy.  Following its premiere in September, DESTINATION D will alternate annually with the enormously popular D23 EXPO.
The next D23 EXPO is set for Aug. 19-21, 2011, returning to the Anaheim Convention Center. Tickets for the 2011 D23 EXPO will go on sale Aug. 19 (one year in advance), with specially priced tickets available exclusively to D23 Members. In addition, D23 Charter Members will have access to a special Charter Member Lounge at the 2011 D23 EXPO, at no additional cost.
The first-ever D23 EXPO attracted nearly 40,000 Disney fans when it debuted last September, bringing the entire world of Disney under one massive roof.  During the D23 EXPO, fans were treated to appearances by superstars like Johnny Depp, Miley Cyrus and John Travolta; explored exciting, new concepts and attractions from Disney Parks and Walt Disney Imagineering; peered into Disney's history at special panels, presentations and displays; and discovered the newest entertainment, products and events from throughout The Walt Disney Company.
"The first D23 EXPO surpassed all of our expectations, and our 2011 Expo is already shaping up to be a jaw-dropping, not-to-be missed showcase of the best and brightest Disney has to offer," said Steven Clark, head of D23.
"We're very excited to also be creating an entirely new event with DESTINATION D, which will bring Disney's fascinating history to D23 Members in ways no other Disney fan can experience," Clark said.  "There's nowhere on earth quite as special as Disneyland, and we want fans to see it as they never have before."
The D23 team is in the midst of developing exclusive programming for DESTINATION D – but an early peek at plans reveals a host of special speakers, presentations and panels throughout the two-day event, including:
"Disneyland: The Way We Were" – Disney's Chief Archivist Dave Smith will look back at highlights from Disneyland history;
"Disney Undiscovered" – An exploration of never-built projects and attractions developed for Disneyland;
"23 on 55" – The Walt Disney Archives celebrates Disneyland's 55th anniversary;
"Weird Disney" – A showcase for some of the quirky, little-known facts, places, people and ideas that even the most avid fan might not know.
More details on the programming and events planned for DESTINATION D: Disneyland '55 – as well as details about the 2011 D23 EXPO – will be available soon at www.disney.com/D23. Tickets will go on sale early this summer.
DESTINATION D joins a lineup of special events throughout 2010 designed exclusively for D23 Members. Among them are free screenings of classic Disney movies during the "50 & Fabulous" film festival at the Walt Disney Studios in Burbank; members-only tours of the famed Walt Disney Archives; an exclusive Sip & Stroll event during the Epcot International Food and Wine Festival; and holiday-themed Magic and Merriment weekend at the Walt Disney World Resort in Florida.