Following the rave reviews of Destination D: Disneyland '55, D23 has announced Destination D: Walt Disney World 40th Anniversary, to be held on May 14 and May 15, 2011. The event will celebrate the 40th anniversary of the Orlando resort, its history and heritage. The event will take D23 Members on a journey from the moment when the first parcels of land in Central Florida were purchased in 1964 through the opening of EPCOT Center in 1982 and beyond.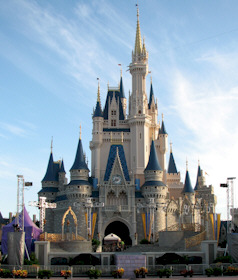 The weekend's activities will illuminate the rich history of Walt Disney's "Project Florida." Destination D: Walt Disney World 40th will feature a remarkable gathering of Walt Disney World pioneers, retrospectives, screenings of rare and newly discovered film and TV footage and lively presentations that will give D23 members an unprecedented look at this truly spectacular World.
All Destination D guests will also receive a complimentary, limited-edition reproduction of the 1970 "Preview Edition" of the Walt Disney World souvenir guidebook from the Walt Disney Archives Collection. The 22-page, colorful book is just one of the gifts Members will receive.
The complete Destination D: Walt Disney World 40th line-up (as well as information about D23's Great Disney Scavenger Hunt) is available at the D23 Web site and includes:
Appearances by notable Disney Legends & Imagineers Marty Sklar, Bob Gurr, Jack Lindquist, Eric Jacobson, Tony Baxter, Charlie Ridgway and Ron Logan, in addition to Debra Browne, the 1971 Walt Disney World Ambassador.
A special exhibit from the Walt Disney Archives featuring rare items and artifacts showing the creation and evolution of Walt Disney World Resort.
A multitude of fantastic presentations covering topics such as bizarre and wacky moments in Walt Disney World's past, Walt's vision for EPCOT, and even a peek at the Walt Disney World that never was!
Rare autograph session with Disney Legends and authors.
An enchanting concert, Magic Journeys: A Flight of Fancy through 40 Years of Walt Disney World Musical Memories featuring Disney Legend and Academy Award®-winner Richard M. Sherman.
Tickets will go on sale February 24 at 10 a.m., Pacific Time (1 p.m. Eastern Time) in which D23 members can purchase tickets to the spectacular two-day event at the official event page. Last year's Destination D event was sold-out so fans are encouraged to book early.
Guests may also now register for D23's Great Disney Scavenger Hunt: Walt Disney World, which takes place May 12 & 13, and will send hundreds of teams across the Resort's four theme parks in what will be the largest scavenger hunt to ever hit Walt Disney World! Registration for the Hunt is open to both D23 Member and the general public.