The Walt Disney Company has acquired Kerpoof, a web-based creative design suite for children that launched at 2007's TechCrunch 40. The financial terms of the deal were not disclosed, but Kerpoof's online portal at Kerpoof.com will continue to operate as its technology is deployed on Disney's homepage.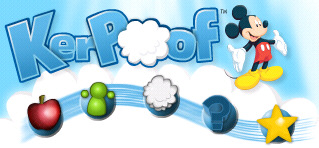 Kerpoof's described their goal as "to become a leading destination site for children through a suite of activities that are enriching as well as entertaining. While mindless fun has its place, creating a place for mindful fun is Kerpoof's mission."
They went on to say that "on Kerpoof, kids can create art, stories, and animated movies using a simple 3D interface. When users are done, they can save it to their gallery, share it with others, and vote on their favorites. "
TechCrunch describes the acquisition as a "a good fit for Disney" seeing that Kerpoof  is ideal for kids in that little instruction needed as the company's technology is primarily image-based. They also go on to point out that it has become increasingly popular in classrooms worldwide.
Disney has already begun to integrate the technology on its Disney Characters site (click the button that says 'Make a Picture'), where users can create custom Disney-themed images, which they can then print out to make a personalized coloring book. It's likely we'll see more new features that take of Kerpoof's technology in the near future.
Original story at TechCrunch.