Very soon you will be able to see your beloved Disney/Pixar characters in comic book format. Disney Publishing Worldwide and BOOM! Studios have announced that they will bring brand new stories from beloved Pixar movies to the comic book medium. Initial offerings will feature characters from Toy Story, Finding Nemo and Disney/Pixar's newest film – WALL*E.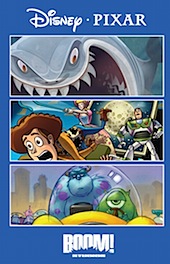 "Today, American comic books are aimed primarily at an older readership. Comics produced for an upcoming generation of readers are scarce – and BOOM! Studios aims to do something about that," said Editor-in-Chief Mark Waid. "There will be comics for kids again!"
Waid will be writing The Incredibles comic book, featuring cover art by DC: The New Fronteir writer and artist, Darwyn Cooke.
To commemorate this historic partnership, BOOM! will be releasing a special preview book featuring sneak previews of upcoming projects using the characters from Toy Story, Finding nemo and Monsters, Inc. This preview is aimed give comic fans and interested parents a look at the quality comics BOOM! will be producing for a younger audience by the end of the year.
"It's nothing short of an honor to work with Disney Publishing Worldwide and Pixar for this project," said BOOM! Studios co-founder Ross Richie. "We found kindred spirits in the creative counterparts we have at both companies, and have just really had a fantastic time finding the right writer and artist combinations to do the source material justice. I think young and old alike are going to love these books!"
The Pixar preview book will be available for $5 during San Diego Comic-Con which runs July 24-27, 2008 at the BOOM! Studios booth.