Disney is coming to the island of O'ahu, Hawaii. No it will not be another theme park but rather a Disney themed resort. Ko Olina Resort & Marina scheduled to be completed by 2011 will be a 830-unit resort on 21 acres of property.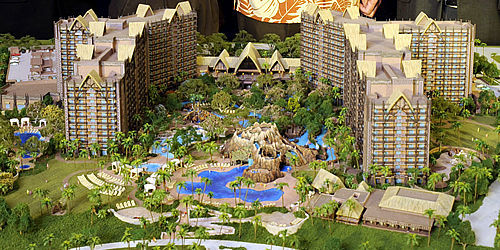 Announcing the project, Jay Rasulo, Chairman of Walt Disney Parks & Resorts says, "We are very excited to share the early designs of our resort, which we believe will offer a base for families to discover the wonders of Hawai'i and connect with the local culture. We hope the magic of Disney storytelling and service will combine with the rich history, heritage and natural beauty of Hawai'i to create a special experience the whole family can enjoy."
The resort will feature 350 hotel rooms and 480 DVC villas in two main buildings, surrounding an extensive volcano-themed water play area that includes water slides, rapids and waterfalls. A spa, conference center, kids' club, gardens and wedding lawn are also in the works.
The property will be located on the western side of O'ahu and is expected to create around 1,000 new jobs.
Honolulu Mayor Mufi Hannemann says, "I am looking forward to the grand opening of this resort because Disney is committed to being a good corporate citizen and will help develop a stronger community by creating new jobs and offering promising career paths to many local residents."