Every since speculations and rumors have abounded about a proposed second Disney theme park in China, Shanghai to be specific, The Walt Disney Company has been mum as to any validity to the news. In fact during my recent visit to the Disney D23 Expo, when a guest asked an Imangineer about the Shanghai project, he simply stated, "I don't know what you are talking about."
Now in a official press release, Disney reveals that they are indeed planning a Disney theme park for Shanghai.
Here is the verbiage from the release:
THE WALT DISNEY COMPANY REACHES ANOTHER MAJOR MILESTONE
ON SHANGHAI THEME PARK PROJECT
BURBANK, Calif. – November 3, 2009 – The Walt Disney Company today announced that the Project Application Report (PAR) for a Disney theme park in the Pudong district of Shanghai has received approval from the relevant authorities of the central government of China.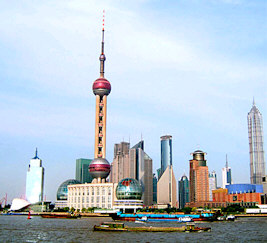 "China is one of the most dynamic, exciting and important countries in the world, and this approval marks a very significant milestone for The Walt Disney Company in mainland China," said Robert A. Iger, president and CEO of The Walt Disney Company.
The PAR approval will enable Disney and its Shanghai partners to move forward toward a final agreement to build and operate the park and begin preliminary development work. Upon completion of the final agreement, the project's initial phase would include a Magic Kingdom-style theme park with characteristics tailored to the Shanghai region and other amenities consistent with Disney's destination resorts worldwide.
Even the official Disney Parks blog republished this press release. So obviously while in negotiations all along, Disney refused to comment on the project at least until they moved past this phase.
Keep in mind that the press release says "the PAR approval will enable Disney and its Shanghai partners to move forward toward a final agreement" so no ground has been broken yet. And previous rumors stating that the park would open by 2012 seem unlikely although they did open the original Disneyland in 1955 within a year or so of breaking ground.