Former Walt Disney Imagineers, Rolly Crump and the late Don Edgren, were honored at a special ceremony at Disneyland last week.
Each was honored with a window above the Silhouette Studio on Main Street, U.S.A., marking the first time two people received the honor on the same day.
Walt Disney himself started the tradition of honoring the people who helped to create and shape Disneyland with window dedications and the tradition has carried on to each of the Magic Kingdom parks around the world. According to a Disney press release, "Honorees are made the proprietors of fictional businesses, usually relating to their occupation or hobby."
Rolly Crump

Rolly joined Walt Disney Studios in 1952 and served as an in-between artist and later, assistant animator, contributing to "Peter Pan" (1953), "Lady and the Tramp" (1955), "Sleeping Beauty" (1959), and others.
In 1959, he joined show design at WED (Walter Elias Disney) Enterprises, now known as Walt Disney Imagineering. There, he became one of Walt's key designers for some of Disneyland's groundbreaking new attractions and shops, including the Haunted Mansion, Enchanted Tiki Room, and Adventureland Bazaar.
In the 60;s, Rolly served as a key designer on the Disney attractions featured at the 1964-65 New York World's Fair, including It's a Small World, for which he designed the Tower of the Four Winds marquee. When the attraction moved to Disneyland in 1966, Rolly designed the larger-than-life animated clock at the entrance, which sends puppet children on parade with each quarter-hour gong.
After contributing to the initial design of the Magic Kingdom at Walt Disney World in Florida, and developing story and set designs for NBC's "Disney on Parade" in 1970, Rolly left the Company to consult on projects including Busch Gardens in Florida and California, the ABC Wildlife Preserve in Maryland, and Ringling Brothers & Barnum and Bailey Circus World in Florida, among others.
He returned in 1976 to contribute to EPCOT Center, serving as project designer for "The Land" and "Wonders of Life" pavilions. He also participated in master planning for an expansion of Disneyland until 1981, when he again departed to lead design on a proposed Cousteau Ocean Center in Norfolk, Virginia, and to launch his own firm, the Mariposa Design Group, developing an array of themed projects around the world, including an international celebration for the country of Oman.
In 1992, Rolly returned to Imagineering as executive designer, redesigning and refurbishing the "CommuniCore" pavilion-turned-"Innoventions" and "The Land" pavilion.
Rolly Crump "retired" from The Walt Disney Company in 1996 but is said to still be active in breathing life into original ideas from his home in Fallbrook, California.
Don Edgren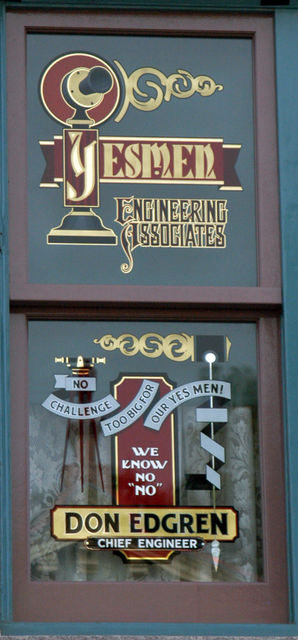 Don, who was a professional engineer licensed in the states of California, Florida, and Hawaii, worked for Wheeler & Gray, Structural Engineers, at The Walt Disney Studios on the structural design/detail of Disneyland from late 1954 until the Park opened on July 17, 1955. "He was the original chief engineer 'in the field'-on the construction sites." Marty Sklar, The Walt Disney Company's international ambassador for Walt Disney Imagineering recalls.
Don then coordinated structural design/detail from the Wheeler & Gray office on Disneyland expansion until June of 1961. "After his 'engineering baptism' at Disneyland in the early days," Marty says, "he was invited to join the staff of WED Enterprises in Glendale."
Don worked as a project engineer on the Ford Motor Company exhibit for the 1964-65 New York World's Fair, and lived in New York during the construction of the Ford facility and the installation of the "Magic Skyway" show and ride, from March, 1963 to April, 1964.
Don also led the Imagineering engineering team for New Orleans Square and Pirates of the Caribbean at Disneyland, while also participating in the initial master planning for Walt Disney World in Florida. Don was promoted to vice president, engineering/Florida in 1969, and relocated there in August of that year as head of the field engineering efforts there.
Don returned to WED in Glendale in April of 1972 as vice president of engineering. He led the Imagineering engineers on the first Space Mountain (Walt Disney World Magic Kingdom, December 1974), after which he left Disney briefly.
Returning to WED in May 1979 as director of engineering for Tokyo Disneyland, Don coordinated all engineering design activities, relocating to Japan in September of 1979. He returned stateside to WED in May 1983, where he was responsible for the direction and supervision of all project engineers.
Don retired from The Walt Disney Company in 1987.
Window photos by Steven Ng via MousePlanet.