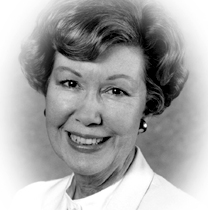 Harriet Burns, the first woman ever hired by Walt Disney Imagineering in a creative rather than an office capacity, has died at the age of 79. Her role as an attraction and product designer for Walt Disney Imagineering laid a path for the many talented women who followed in her footstep.
Harriet first came to Disney in 1955 when she was hired to paint sets and props for the new Mickey Mouse Club television show. She soon began coordinating the show's color styling and even designed and built the famous "Mouse Clubhouse."
She later joined Walt Disney Imagineering (formerly called WED, "Walter Elias Disney," Enterprises) where she helped create Sleeping Beauty Castle, New Orleans Square, the Haunted Mansion, and more. She also helped construct Storybook Land and designed all of the "singing birds" in the Enchanted Tiki Room, the first Audio-Animatronics attraction at Disneyland.
Harriet retired from Disney in 1986 and moved to Santa Barbara. In her retirement, she continued to stayed active in the Disney community and in the year 2000, was inducted into the Walt Disney hall of fame as a Disney Legend. Harriet is also the only woman to have a window on Disneyland's Main Street USA whose inscription reads "The Artisans Loft – Handmade Miniatures By Harriet Burns".
Next time I visit Disneyland, I'll be sure to remember Harriet when visiting the Enchanted Tiki Room and will look for her window on Main Street as well.
Harriet is survived by her daughter Pam Clair. Memorial services will take place in August in Santa Barbara, where she was an active member in the arts and music community.
Story sources include Disney Legends and The Disney Blog. There is also a couple of great tributes at LaughingPlace.com and MouseClubhouse.com.