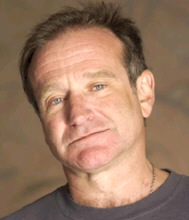 Besides the already great list of activities planned for Disney's first ever D23 Expo, Oscar-winning actor Robin Williams, the extraordinary actresses of The Golden Girls, the voices of Donald Duck and Goofy, and other incomparable contributors to the Disney legacy will be honored on September 10 at the 2009 Disney Legends Awards.
The Disney Legends Awards are a 22-year tradition of The Walt Disney Company, and the four-day D23 EXPO provides a rare opportunity for the public to watch the awards presentation.
The awards ceremony, hosted by ABC personality Tom Bergeron, will take place at 11 a.m. on Thursday, Sept. 10, in the Anaheim Convention Center Arena.  It directly follows a special, one-hour presentation by Walt Disney Company President and CEO Bob Iger that kicks off the first day of the D23 EXPO – which promises to be the ultimate Disney fan event.
"This year's recipients have had truly indelible influence on the Disney legacy," Iger said.  "Whether on screen or behind the scenes, these 10 men and women have contributed their talents in countless ways, and we are very honored to name them as Disney Legends."
The 2009 Disney Legends Award honorees (listed alphabetically) are:
Tony Anselmo – A Disney animator who, since 1985, has provided the incomparable (and some would say inimitable) voice of Donald Duck in movies, cartoons, TV shows and theme-park attractions.
Harry Archinal – the former president of Buena Vista International, who helped expand Disney's cinematic presence into regions outside of the U.S. and Canada, bringing Disney movies to audiences around the world.
Beatrice Arthur – She brought deadpan comic timing and enormous warmth to the role of Dorothy Zbornak in The Golden Girls from 1985 to 1992, a role that brought her a second Emmy Award (in addition to an Emmy for Maude).  She was also a Tony Award-winning stage actress and is in the Academy of Television Arts & Science's Hall of Fame.  Note: This award is presented posthumously.
Bill Farmer – An accomplished voice actor whose enormous body of work has included providing the voice of Goofy since 1986.  Farmer has also been the voice of Pluto and Horace Horsecollar for Disney productions.
Estelle Getty – Although younger than Beatrice Arthur, Getty portrayed her mother, feisty Sophia Petrillo, in The Golden Girls from 1985 to 1992. She received an Emmy Award for the role – which she reprised in Golden Palace and Empty Nest – and was nominated six additional times.  Getty was one of the first recipients of the "In Memoriam" Tony Award for her Broadway stage work.
Don Iwerks – The son of Walt Disney's longtime friend and animator Ub Iwerks.  Don Iwerks worked at Disney from 1951 to 1986, and created revolutionary film systems that were used in movies like Mary Poppins (sodium traveling matte process) and in such Disney theme park attractions as "CircleVision 360" and "Star Tours."
Rue McClanahan – Honored with an Emmy Award for her hilariously lusty, warm-hearted role as Blanche Devereaux on The Golden Girls, which she also repeated on Golden Palace. From 1972 to 1978, McClanahan played opposite Beatrice Arthur as Vivian on Maude, and also co-starred in Mama's Family.  In addition to her renowned work on TV, on stage and in films, McClanahan is active in animal-rights, cancer and AIDS organizations.
Leota Toombs Thomas – Leota was working at Walt Disney Imagineering (then WED Enterprises) when she served as a model for a new attraction called the Haunted Mansion.  She soon became world-famous as the Mansion's disembodied Madame Leota.
Betty White – Betty has become a television icon, especially for her role as slightly befuddled, always charming Rose Nylund in The Golden Girls – for which she received one of her six Emmy Awards.  White has also been a key cast member in such hit TV shows as The Mary Tyler Moore Show, The Golden Palace, The Practice and her own series, The Betty White Show.  She has been seen in 19 films and has long supported many animal-rights organizations.
Robin Williams – The recipient of six Golden Globes, two Screen Actors Guild Awards, three Grammy Awards and the Oscar for Best Supporting Actor (1997).  His unforgettable film work for Disney has included providing the voice of Genie in Aladdin and starring in Good Morning, Vietnam, and Dead Poets Society.  He also appeared in the short film Back to Neverland at Disney theme parks.  This fall, Williams stars with John Travolta in Old Dogs from Walt Disney Pictures.
Each honoree receives a two-foot-tall bronze Disney Legends sculpture that signifies the imagination, creativity and magic they have brought to the Company. Disney Legends Award recipients also participate in a hand-print ceremony, and their bronzed prints will be displayed in the Disney Legends Plaza at the Company's Burbank headquarters.
The first Disney Legend, actor Fred MacMurray (The Shaggy Dog, The Absent-Minded Professor, The Happiest Millionaire), was named in 1987.  Including this year's honorees, a total of 237 Disney Legends have been named which include names like include Tim Allen, Julie Andrews, Howard Ashman, Annette Funicello, Peter Jennings, Angela Lansbury, Steve Martin, Alan Menken, Hayley Mills, Fess Parker, Sir Tim Rice, Dick Van Dyke and Barbara Walters.