I would imagine that David and Marisol Chaveco, a Clermont, Florida couple who own a small party business, never thought they'd be famous, at least not in this manner. Nevertheless, it is national news now that the Walt Disney Company is suing the couple for trademark infringement. Disney is seeking $1 million in damages.
The infringement lies in the fact that the couple bought two costumes from a Peruvian company on eBay which resemble the Disney characters Tigger and Eyeore and were advertising the availability of the characters for parties on their business web site. Because Disney aggressively protects all their trademarks and intellectual property, the company's lawyers were quick to act.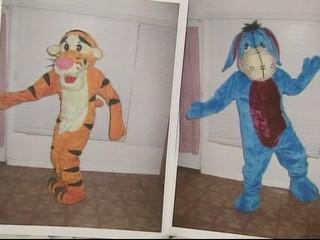 They sent the family three letters demanding seven items, one of them being that the couple send the costumes to Disney so they could be destroyed. The family complied with all Disney's requests with the exception of the costumes which they sent back to the Peruvian company for a refund.
Now Disney is suing for $1 million plus legal costs.
Opinions on this are split on this story with one side crying foul on Disney, who is viewed as a giant corporation picking on a small mom and pop business, while others are saying that they family knew exactly what they were doing and deserve to be sued.
The couple attempted to defend themselves with the following statements:
"Disney wasn't even in our thoughts – period, I mean if we would've thought that any of this was even possible we wouldn't have bought the costumes," said David Chaveco.
"We honestly saw them as an orange tiger and blue donkey we didn't see it as we weren't trying to impersonate anything," said Marisol Chaveco.
Sorry — I don't buy it. In fact I'd love to see the original eBay ad as to whether these costumes were in fact advertised as "Tigger and Eyeore" characters. Add to the fact that they are about 15 minutes away from Walt Disney World in Orlando and it is difficult to accept their defense.
What they should have done is to COMPLETELY comply with ALL of Disney's demands and there would be no lawsuit. Instead they decided to recoup their investment of $500 plus shipping that they had paid for the costumes by returning them. Now they face much greater losses.
While Disney officials in Florida declined to comment Wednesday, saying "the lawsuit spoke for itself," The Orlando Sentinel sums up Disney's position very well.
Disney's lawsuit contends it has the right to "combat willful and intentional infringement of its copyrighted properties" to prevent misuse of its characters. The company says it has, in the past, received complaints about unauthorized use of its characters. Without firm licensing agreements, the company noted, it "cannot control the quality and nature of the performance, the quality of the costumes, [or] the quality and background of the individuals providing the performance . . . "
So, is this a case of the big bad corporation picking on the little guy or rather a company that has worked very hard to create and protect its intellectual property simply defending its rights?
Even though I typically hate the legal bullying of large corporations, I have to side on Disney on this one. I believe the couple knew what they were doing but simply miscalculated that Disney would discover their use of the costumes as well as react this way.
Photo credits: MyFox Atlanta