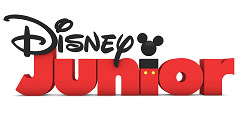 Disney/ABC Television Group recently announced that they will launch "Disney Junior", a new multiplatform brand and 24-hour basic cable/satellite channel and online site devoted to preschool-age children. Scheduled to debut in the U.S. in 2012, Disney Junior will invite mom and dad to join their child in the Disney experience of magical, musical and heartfelt stories and characters, both classic and new, while incorporating specific learning and development themes designed for kids age 2-7.
Disney Junior's animated and live action programming will blend Disney's unparalleled storytelling and characters kids love deeply with learning, including early math, language skills, healthy eating and lifestyles, and social skills.
The 24-hour Disney Junior schedule will include 200 new episodes annually of both new series, including "Jake and the Never Land Pirates," and current hits, including "Mickey Mouse Clubhouse," "Handy Manny," "Special Agent Oso," "Imagination Movers" and "Jungle Junction." Disney's vast array of classic and contemporary movies, including among others "101 Dalmatians," "Aladdin" and "Little Mermaid," will be showcased.
In the U.S., the new Disney Junior channel will take the place of the SOAPnet channel, currently available in 75 million homes. Prior to the launch of the 24-hour channel, the Disney Junior brand will be introduced on Disney Channel's daily programming block for preschoolers (currently branded Playhouse Disney).
Anne Sweeney, co-chair, Disney Media Networks and president, Disney/ABC Television Group, said: "The launch of Disney Junior in the U.S. is the next step in our global preschool strategy, which began 10 years ago with the premiere of our first dedicated preschool channel in the UK. The decision to ultimately transition SOAPnet to accomplish this was not arrived at lightly. SOAPnet was created in 2000 to give daytime viewers the ability to watch time-shifted soaps, before multiplatform viewing and DVRs were part of our vocabulary. But today, as technology and our businesses evolve, it makes more sense to align this distribution with a preschool channel that builds on the core strengths of our company."
Carolina Lightcap, president, Disney Channels Worldwide, said: "Around the world, our Disney-branded channels are burgeoning, distinguished by the special place Disney has in the hearts of kids — who delight in our characters and stories — and parents who trust our commitment to entertaining and helping their preschoolers, kids and tweens grow through engaging, relevant programming." She continued, "By adding a dedicated U.S. channel for preschoolers to our global portfolio, we look forward to enhancing that sense of magical storytelling and parental trust, and expanding our offerings, locally and globally, from morning to night, to deliver more Disney-quality content that will resonate with generations to come."
Outside the U.S., the 22 Playhouse Disney channels and blocks, currently available in 29 languages in 156 countries/territories, reaching over 45 million households, will be rebranded Disney Junior beginning in 2011.
The new Disney Junior brand will also provide affiliate partners with a robust Video-On-Demand offering, a High-definition network and a Spanish language SAP feed.