Disney announced today an expansion of its media offerings on its Xtreme Digital (XD) online network. In conjunction with its 2008 summer movie broadcast schedule for its ABC television network, the entertainment giant has introduced a staged rollout of full-length movie streams to Web viewers following their original showing on the Wonderful World of Disney on Saturday nights.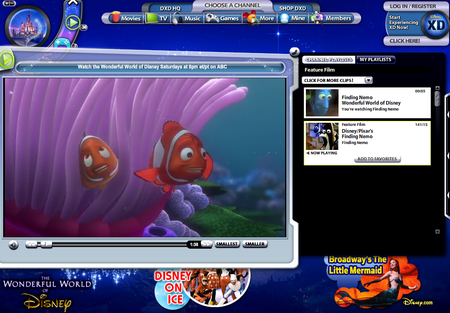 "Finding Nemo," is currently being featured with "Monsters Inc.," "Haunted Mansion," "Confessions of a Teenage Drama Queen," "Princess Diaries 2," "Freaky Friday," and "Peter Pan" to follow on successive weeks. While ABC networks are said to only show movies on Saturday nights, visitors to the XD website will be given the opportunity to view the abovementioned weekly picks on demand the full week after they're aired, Monday through Friday.
Before you Disney lovers get too excited, the company is not providing access all of its DVD lineup. Rather, they will be presenting a single movie each week, which will then be replaced by another as each Monday of the season-specific Wonderful World of Disney event rolls around. But the company's attempt to fix its release of content to the Web to a schedule may allow XD to maintain a sort of consistency throughout the summer that it can keep long past the departure of WWD broadcasts.
News source: Mashable.