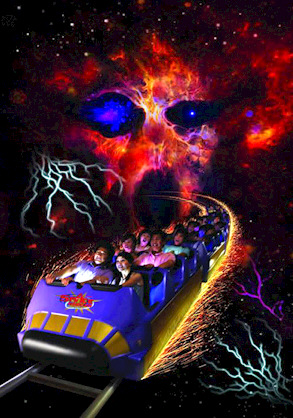 From The L.A. Times, Disneyland will add Halloween theming elements to its Space Mountain attraction as well as its fireworks show during the end of September thru the first day of November. The "Halloween Time" event, which runs from Sept. 25 through Nov. 1, is included in the price of admission to the Anaheim theme park.
The "Ghost Galaxy" Space Mountain overlay, which originally premiered at Hong Kong Disneyland in 2007, features a new soundtrack and ghostly and ghoulish projections inside the darkened roller coaster building.
The Halloween-themed fireworks show, hosted by "Master of Scaremonies" Jack Skellington of "Nightmare Before Christmas" fame, will include nods to Disney villains.  Many of those villains including Cruella de Vil (101 Dalmatians), Captain Hook (Peter Pan) and Queen of Hearts (Alice in Wonderland) will also be wandering the theme park, signing autographs and passing out treats.
Across the way at Disney's California Adventure, "Mickey's Trick-or-Treat Party" will run on Oct. 2, 8, 9, 15, 16, 21, 22, 23 and 28-31. The separate-admission event — which includes games, music and a Disney character parade — lets costumed children trick-or-treat throughout the park.