Disney went before the Anaheim Planning Commission last week in order to pitch a plan to build an additional parking structure on land that they purchased eleven years ago. The site which used to be a strawberry field and located at 1946 S. Harbor Blvd., was purchased by Disney for a possible third theme park. The commission approved Disney's plan today.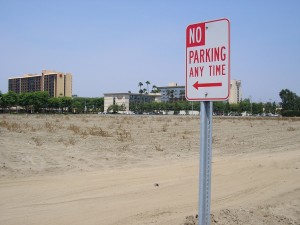 The main reason Disney needs the extra parking space right now is due to the fact that they recently closed the 2,226-space Timon parking lot which was the last piece of the original Disneyland parking lot. This is where the new Cars Land is being developed as part of the $1 billion expansion taking place right now in Disney's California Adventure.
Disney can use the extra parking spaces for at least six years. However Anaheim wants to reserve space on the 53-acre Disney property for a fixed-guideway system (like a monorail) between a planned transportation hub and the tourist area. If the guideway isn't ready after six years, Disney could keep the temporary parking lot for an additional four years.
"This approval will help us manage the transportation needs of our guests as we continue to grow and invest in Anaheim," said Disney spokesman John Nicoletti.
The fact that Disney will now build a parking garage on this property does not rule out a possible third theme park in the future – it only delays it. And to no surprise to me seeing that Disney Imagineers seem to be putting all their efforts into completing the California Adventure expansion by 2012.
The new parking structure of built according to plans submitted to the commission will add 2,570 additional parking spaces to the 28,893 they already have.