Disney's five year, 1 billion dollar expansion of its California Adventure theme park is near complete. In fact, June 15 is the date that two highly anticipated themed lands, Cars Land and Buena Vista Street, will open completing one of the largest expansions of any Disney park in history.
With that, Disney has just released a variety of photos as well as facts and figures about the overall expansion and then specifically, Cars Land, a totally new land to California Adventure. First the facts and figures about the expansion with photos and details on Cars Land below the fold.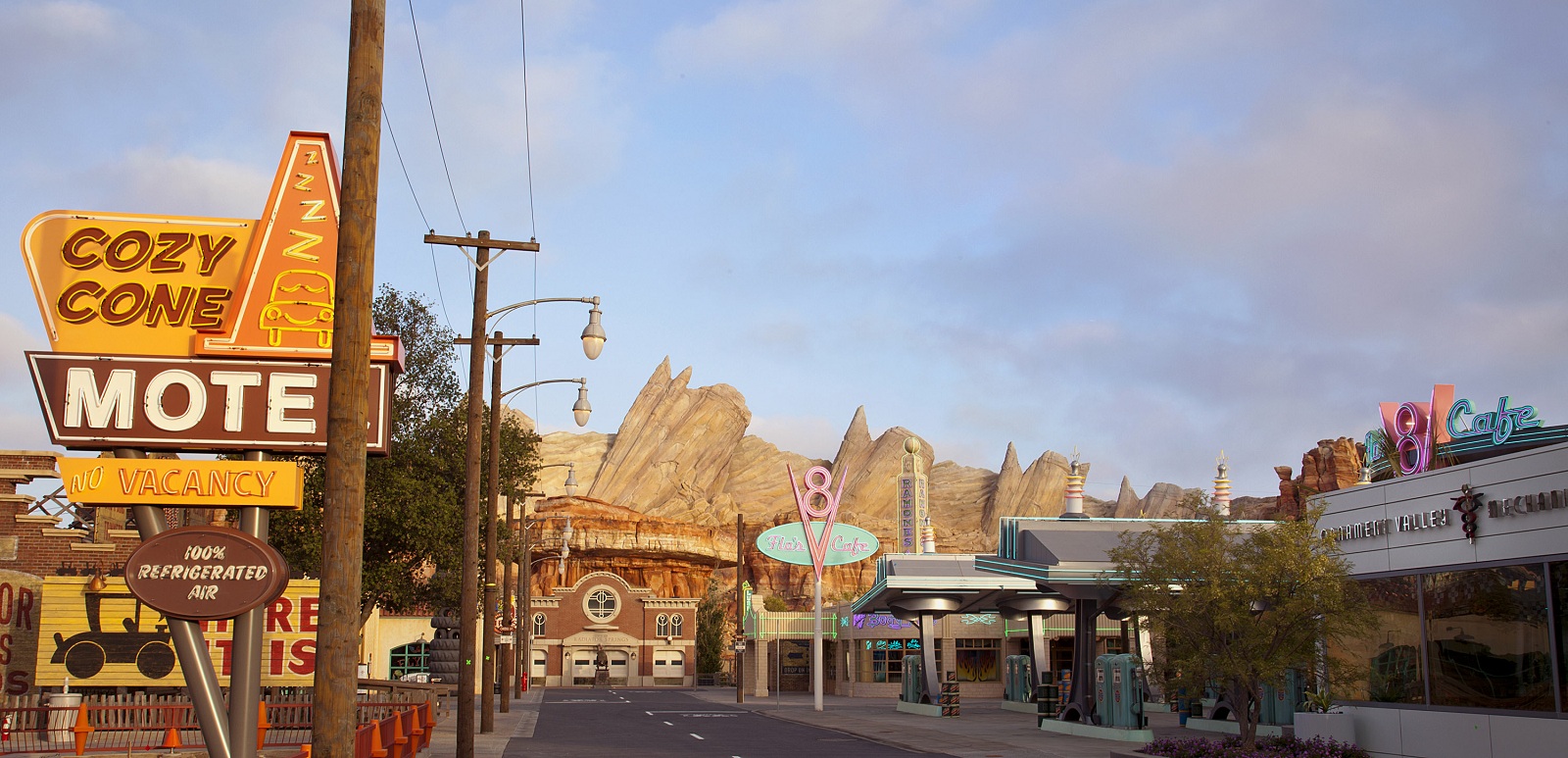 California Adventure Expansion By the Numbers
89.5 – Height in feet of the Carthay Circle Theatre on Buena Vista Street – 12.5 feet taller than Sleeping Beauty Castle at the end of Main Street, U.S.A., in Disneyland Park
1937 – Year "Snow White and the Seven Dwarfs" premiered at the original Carthay Circle Theatre, lending inspiration to the Carthay Circle Theatre icon now on Buena Vista Street
200 – Number of seats in the Carthay Circle Restaurant dining room, in addition to a 56-seat terrace and the 68-seat Carthay Circle Lounge
235 – Approximate number of different wines offered at Carthay Circle Restaurant, including 35 by the glass; also 16 craft beers
20 – Number of passenger seats on each Red Car Trolley, with additional space for a wheelchair
623 – Number on one of the Red Car Trolleys, representative of the 600 series of trolley cars built for the Pacific Electric Railway; also reflects 1923, the year Walt Disney first arrived in California
717 – Number on the second Red Car Trolley, representative of the 700-750 series of trolley cars built for the Pacific Electric Railway; also reflects July 17, the month and day Disneyland opened in 1955
1.1 – Miles of LED ribbon lighting at Mad T Party, fantastic, new nighttime fun in Hollywood Land
715 – State-of-the-art lighting fixtures illuminating Mad T Party
1923 – Year listed on embedded plaque at Storytellers statue at Disney California Adventure, reflecting the date when Walt Disney left Kansas City to embark on his new adventure in California and the year he founded his world-famous company
280,000 – Square feet of rockwork in Cars Land, making Ornament Valley mountain range the largest rockwork created in a domestic Disney theme park; built to an unusual level of complexity with very few 90-degree angles
125 – Height in feet at the tallest peak of Ornament Valley range in Cars Land
6 – Distinct car tail fins represented in the Ornament Valley range, inspired by classic car models from 1957 to 1962; hood ornaments, wheel wells and radiator caps also represented in the rockwork
4,000 – Tons of steel used to construct the Ornament Valley range and Radiator Springs Racers attraction in Cars Land
45 – The steepest degree of banking on the track of the thrilling Radiator Springs Racers attraction in Cars Land
36,000 – Approximate number of miles per year each Radiator Springs Racers vehicle will travel, equivalent to more than 14 trips down the original Route 66
6,714 – Air vents keeping the tires flying at Luigi's Flying Tires attraction in Cars Land
7 – Songs sung by Mater (voice of Larry the Cable Guy) at Mater's Junkyard Jamboree attraction in Cars Land
525 – Approximate length, in feet, of the Route 66 that runs through Cars Land
70 – Species of native plants in Cars Land (450+ specimens of trees and cactus)
16 – Neon signs in Cars Land, with the Flo's V8 Café sign standing tallest at 27 feet
779 – Trees planted in Disney California Adventure during the five-year expansion
3,000 – Number of jobs Disneyland Resort added from 2010-2012
23,000 – Number of cast members employed at Disneyland Resort, making it the largest single-site employer in Orange County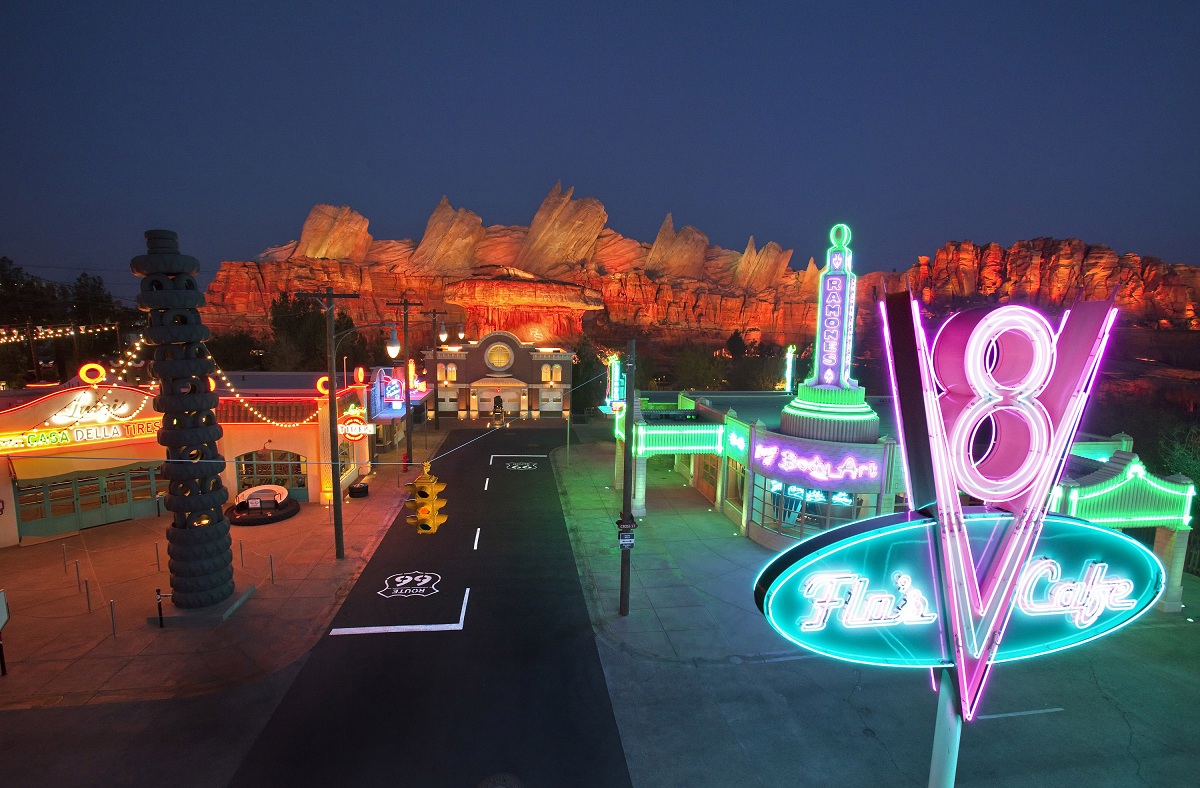 Cars Land Facts and Figures
Get your kicks in Radiator Springs
The re-creation of Radiator Springs captures the authentic feel of Route 66 with three-dimensional versions of familiar landmarks from the film, including Cadillac Mountain Range in Ornament Valley, Luigi's Casa Della Tires and Flo's V8 Café.
Only in Radiator Springs do guests learn dance moves like the Overdrive, the Reverse and the Hairpin Turn, all part of the fun at "DJ's Dance and Drive," one element of the Route 66 entertainment. DJ spins auto favorites such as "Life in the Fast Lane" and "Car Wash."
When night falls in Radiator Springs, 16 neon signs in bright, luminous colors light the way along Route 66.
Signs help tell the story in Radiator Springs, adding humor and life to the town's four-wheeled residents.
The "car-acters" of Cars Land welcome guests at three new attractions: Radiator Springs Racers, Mater's Junkyard Jamboree and Luigi's Flying Tires.
The historic Route 66 runs 2,448 miles from Chicago to Los Angeles. Route 66 in Cars Land is approximately 525 feet long and 23 feet wide, rich with inspiration from the actual American highway.
Cars Land also treats guests to food and merchandise locations inspired by the Radiator Springs landmarks in the film: Flo's V8 Café, Fillmore's Taste-In, Cozy Cone Motel, Radiator Springs Curios, Sarge's Surplus Hut and Ramone's House of Body Art.
The fun of the "Cars" theme extends even to the menus of the Radiator Springs roadside restaurants. Flo's V8 Café serves old-fashioned, breakfast dishes and home-style rotisserie classics for lunch and dinner, including such specialties as a breakfast chicken tamale with scrambled eggs, entrees such as the Veggie-Tater Bake and house-made Pie-O-Rama pies including strawberry-rhubarb, blueberry-peach and apple-cheddar. At Cozy Cone Motel, each food item is a different "cone-coction," such as "Pop-cone" and "Chile Cone Queso."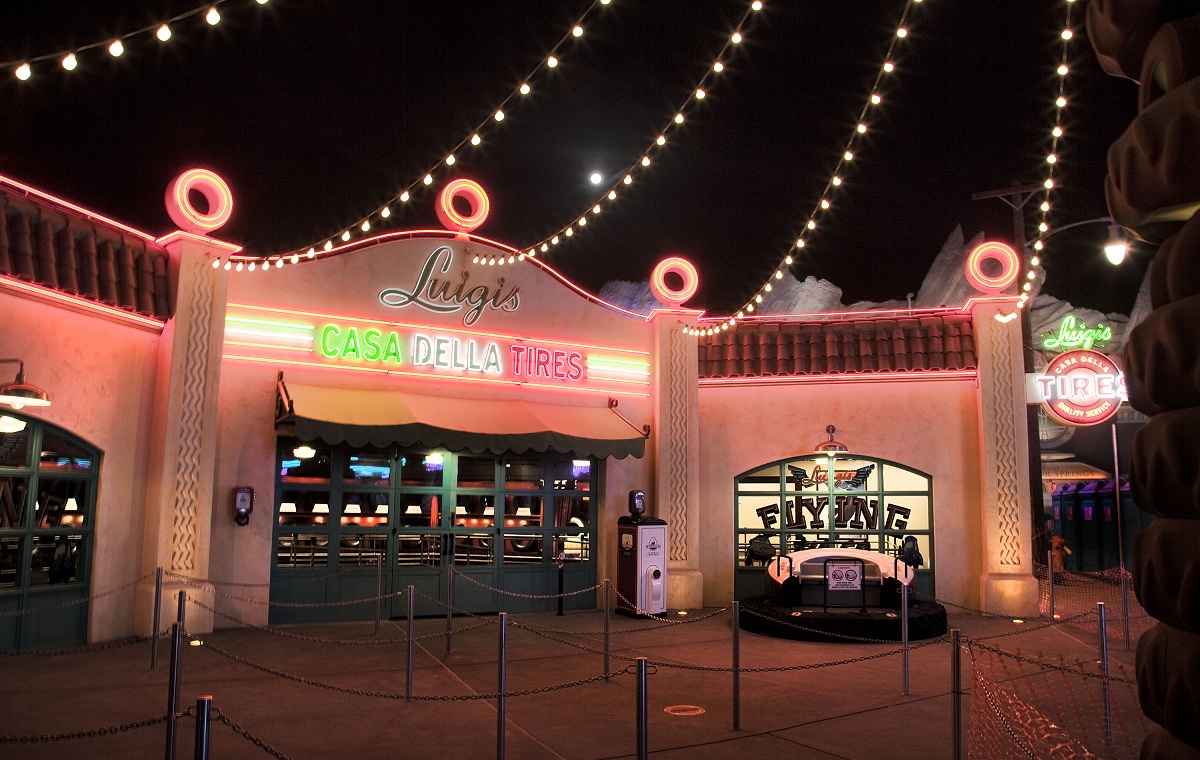 Revving through Cars Land and Ornament Valley
Cars Land construction began in July 2009.
The impressive Cadillac Mountain Range in Ornament Valley stands approximately 125 feet tall at its highest peak, the Pinnacle.
The peaks of the mountain range, from left to right, represent Cadillac tail fins from 1957, 1958, 1959 (the Pinnacle), 1960, 1961 and 1962.
At nearly 300,000 square feet, the mountain range is the largest rockwork construction in any domestic Disney theme park.
More than 4,000 tons of steel were used to erect the mountain range and Radiator Springs Racers attraction.
The team of Walt Disney Imagineers devoted more than 28,000 hours to designing the structural system for the rockwork and Radiator Springs Racers show building.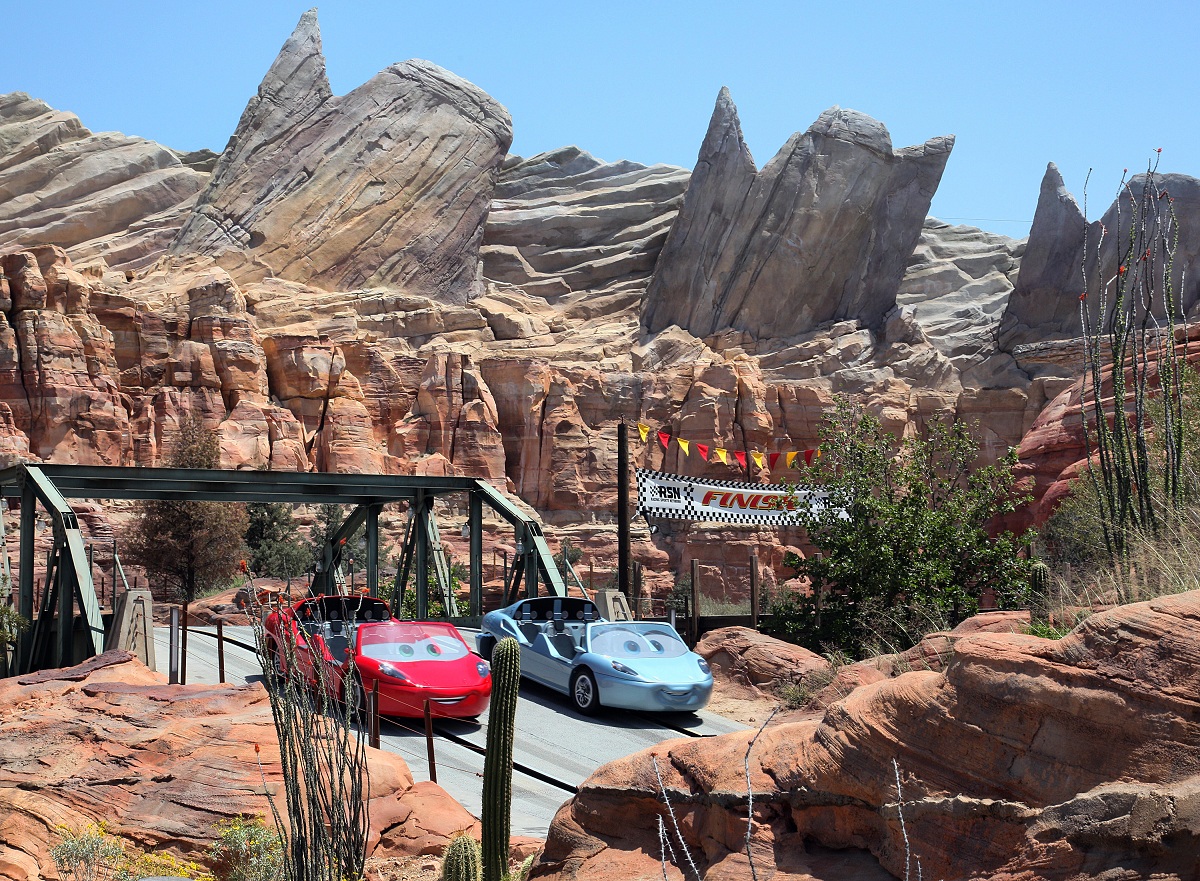 Cars Land Attractions
Radiator Springs Racers: A leisurely, scenic tour of Ornament Valley turns into an all-out race for the Piston Cup as guests race side-by-side through the mountain range, around Willy's Butte and past the plunging waterfall, Radiator Falls – all familiar sights to fans of the movie.
The ride vehicles come in eight colors, each with its own personality.
Each six-passenger convertible features a male or female face, with different details in the eyes and lips. The gender of a car is determined by color.
Guests board cars for a scenic road trip, meandering through the countryside and the town of Radiator Springs. After a stop at Luigi's Casa Della Tires or Ramone's House of Body Art, guests and their cars get some final racing tips from Doc Hudson.
When the race begins, racers split onto parallel tracks, zooming nose-to-nose through the desert landscape. Part of the thrills: Guests will never know who is going to win.
New to Radiator Springs is Taillight Caverns, which Disney Imagineers conceived as a stunning finish to the dramatic race.
The attraction covers nearly six acres – the largest attraction by acreage at the Disneyland Resort.
The "Cars" movie composer, Jonathan Sacks, composed the attraction score.
Each vehicle will travel approximately 36,000 miles per year.
This is a Disney FASTPASS attraction.
Minimum height requirement:  40 inches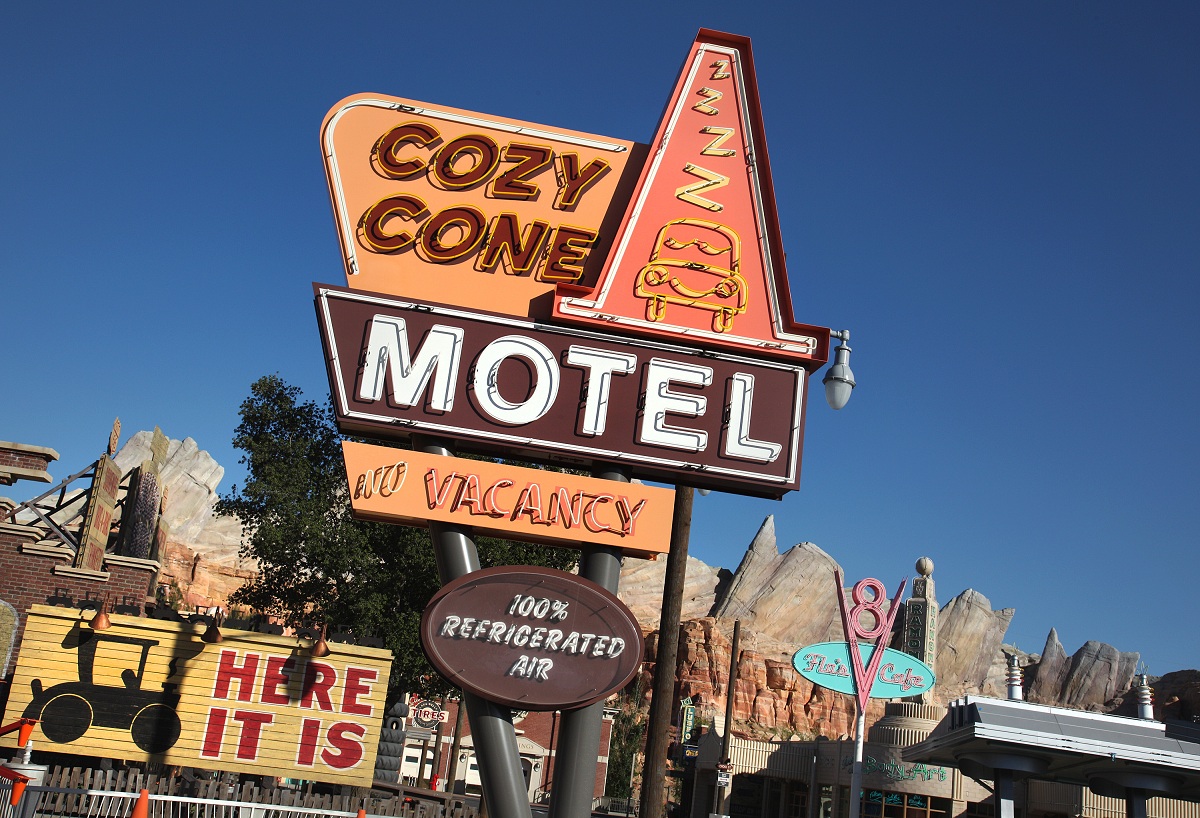 Mater's Junkyard Jamboree: Everyone's favorite tow truck, Mater, has corralled a herd of runaway baby tractors in his junkyard. Guests are invited to an old-fashioned "tow-si-do" in Mater's salvage yard as they ride trailers hitched to the baby tractors.
Larry the Cable Guy (the voice of Mater from "Cars") recorded seven original songs for the attraction, backed by favorite Disneyland park performers Billy Hill & the Hillbillies.
Mater's songs are played on his own special jukebox, made of rusty oil drums, hubcaps, car hoods, horns, mufflers and other auto parts he has collected along the road.
None of the 22 tractors in Mater's Junkyard Jamboree are the same. Like the individual cows in a herd, the tractors all have different markings, mouths and eye colors. They have one thing in common: They all love to dance.
The baby tractors are new characters inspired by the movie and created especially for Cars Land.
License plates on the baby tractors have letters that represent initials and birthdays of key contributors to the Cars Land project from Walt Disney Imagineering and Pixar Animation Studios.
Minimum height requirement:  32 inches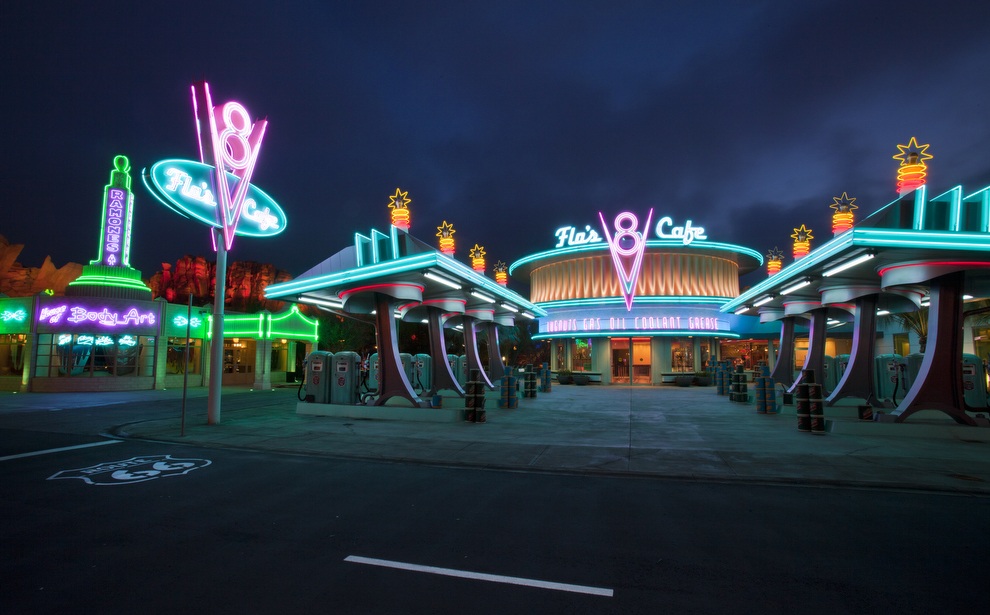 Luigi's Flying Tires: At Luigi's Casa Della Tires, "Cars" characters Luigi and Guido play host to a "Festival of the Flying Tires." When the music starts, tires float and dance in the grand tradition of a celebration that first started in Luigi's hometown of Carsoli, Italy.
Guests board vehicles that look like oversized Fettuccini-brand tires, accommodating up to two adults and one child, or one adult and two children.
Luigi gives a countdown "Uno for the money, due for the show, tre to get ready and quattro to go!" and drops the flag for the "Festival of the Flying Tires."
Gliding along, guests shift their body weight to guide the direction of the vehicle, bumping into other tires as they float across Luigi's 8,000-square-foot Italian garden and tire storage yard.
Guests may work as a team to guide their tire and, for extra fun, try to catch one of the inflatable balls scattered throughout the attraction.
It takes 6,714 air vents to keep the tires floating ever so slightly above the ground – approximately two inches.
The voice of award-winning actor Tony Shalhoub, who voiced Luigi in the movie, is heard throughout the attraction.
Nostalgic Disneyland fans will recognize the attraction as a descendant of the Flying Saucers attraction, which operated in Tomorrowland from 1961 to 1966.
Minimum height requirement:  32 inches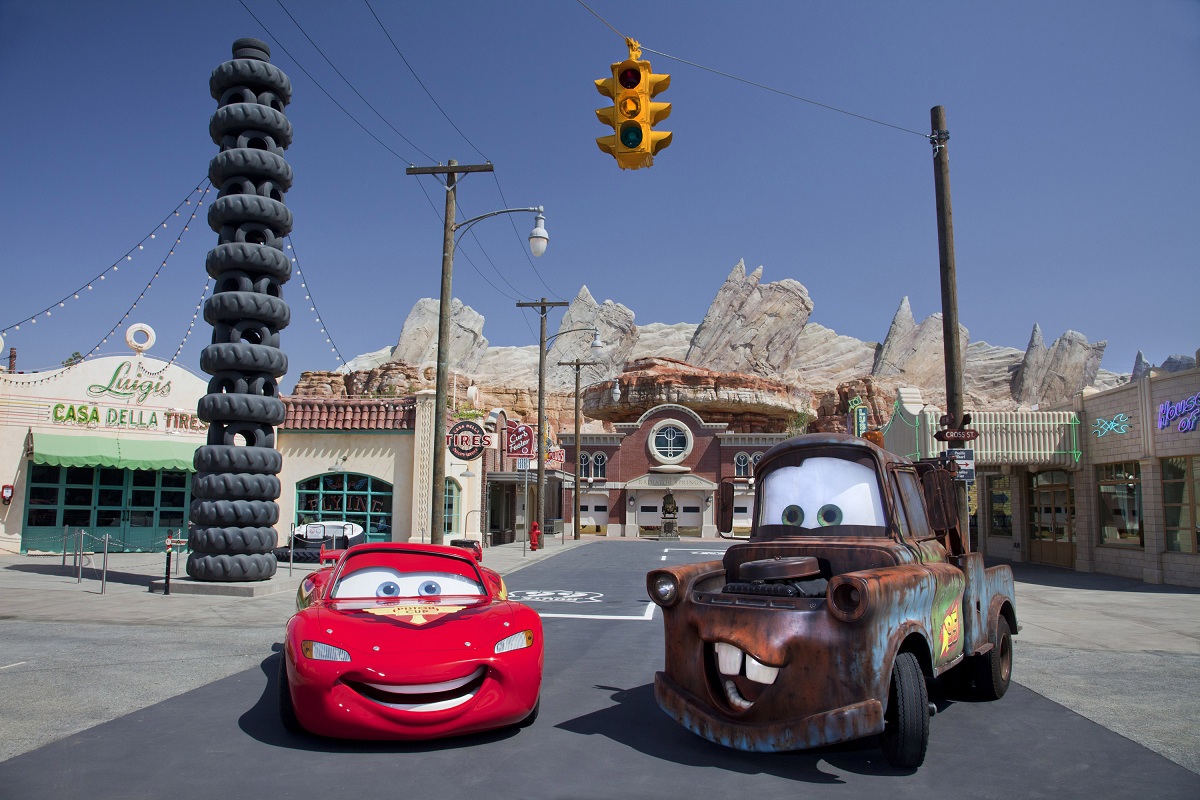 Residents of Radiator Springs
Lightning McQueen and Mater, residents of Radiator Springs and best friends always, settle in at the Cozy Cone Motel to meet guests and pose for photos. Other "car-acters" are featured in the shops, restaurants and attractions.
Red the Fire Truck enlists young guests to help him water the flowers and clean up the town of Radiator Springs. Red makes sure that everything – and everybody – gets wet in some fun, interactive water play.
DJ's Dance Party, as seen in "Cars," features DJ the rolling boom box with a mischievous personality and built-in CD changer.  He and his team of dancers coast down the boulevard, creating a rollicking dance party wherever they go.
And to wrap this lengthy update up, more pictures!