Thanks to The Disney Blog, we have seen what appears to be very real blueprints laying out all the new 'attractions' planned for an expanded Fantasyland at Walt Disney World's Magic Kingdom. While the plans look legit, the real question is have these been approved for construction and if so we should start seeing bulldozers pushing dirt as soon as October.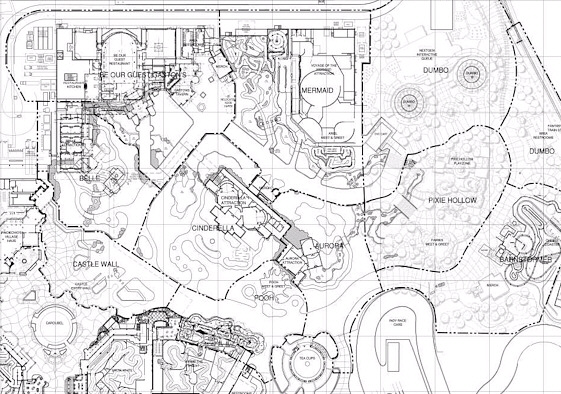 Here's a bullet list of what changes/additions we may see in the near future:
The only attraction that will remain from the existing Toon Town is Goofy's Barnstormer. Dumbo will now be located across from the Barnstormer and will be expanded to two spinners doubling the capacity of that popular attraction.
Several "meet and greets" are included in the plans including an expansion of Pixie Hollow, a larger meet and greet for Cinderella, Belle will get a meet and greet and a new "Be Our Guest" restaurant, Princess Aurora (aka Sleeping Beauty) will also get a spot and finally, Ariel, the Little Mermaid will have a meet and greet as well.
A Little Mermaid attraction will be added (essentially a clone of what is now under construction in California Adventure).
By all appearances, it appears that this expansion is mostly dedicated almost entirely to the Pixie's and Princesses that has become the marketing and merchandising focus of the Walt Disney Company the last few years.