A new baby elephant has been added to the elephant population at Disney's Animal Kingdom. Donna, a 22-year-old elephant Donna is the proud mother of a 288-pound female calf who has yet to be named. Right now, baby and mom are in their backstage home, but in several weeks are expected to join the rest of the elephant herd on the Kilimanjaro Safaris.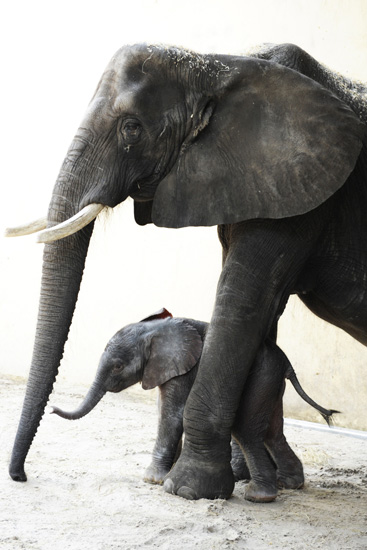 Disney Parks Blog reports that Donna became pregnant through artificial insemination in July 2008 and received extensive pre-natal care throughout her pregnancy. In addition to regular ultrasounds, veterinarians and elephant managers monitored her hormone levels on a daily basis to help them determine when she would give birth. Labor appeared imminent last night and the animal care team stayed with her to provide round-the-clock care until the female calf was born around 11:30 p.m.
This is the fifth elephant born at Disney's Animal Kingdom. In addition to Donna's first female calf, Nadirah, Tufani, a male, was born in 2003; Kianga, a female, was born in 2004; and Tsavo, the youngest male, joined the herd in 2008. All remain on the savannah at Disney's Animal Kingdom. This birth raises the total number of elephants in the Disney's Animal Kingdom herd to thirteen, including five males and eight females.