Fess Parker, a 1950s idol who launched a craze for coonskin caps as television's Davy Crockett, died Thursday of natural causes. He was 85.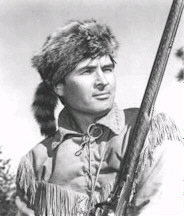 Family spokeswoman Sao Anash said Parker, who was also TV's Daniel Boone and later a major California winemaker and developer, died at his Santa Ynez Valley home. Sadly, His death comes on the 84th birthday of his wife of 50 years, Marcella.
"She's a wreck," Anash said, adding Parker was coherent and speaking with family just minutes before his death. Funeral arrangements will be announced later.
Parker began his show-business career in the play Mister Roberts in 1951, although he is credited with the voice of Leslie, the chauffeur, in the 1950 film Harvey.
Parker became a contract player with Warner Brothers appearing in small roles in several films such as Springfield Rifle (1952), Island in the Sky, The Bounty Hunter and Battle Cry. In 1954, he appeared as Grat Dalton in the Jim Davis western anthology Stories of the Century in the episode The Dalton Brothers.
The role that Disney fans remember Fess the most for was his portrayal of Davy Crockett in the television series by the same name.  Walt Disney Studios hired Fess Parker in 1954 to play the legendary character in three episodes depicting his exploits as frontiersman, congressman, and heroic figure of the Alamo (in the first television miniseries though the term had not yet been coined). Davy Crockett was a tremendous hit with children, and led to a merchandising frenzy for all things Crockett.
Parker afterwards became a contract star for Disney appearing in many films such as The Great Locomotive Chase, Old Yeller, and Westward Ho, The Wagons! He also made guest appearances on many television programs; and composed and sang music.
He filled the occasional role of Tom Conrad, editor of the Diablo Courier in the syndicated western series, Annie Oakley (1954-1957), starring Gail Davis, Brad Johnson, and Jimmy Hawkins. In 1962, he starred in the title role of the TV series Mr Smith Goes to Washington and from 1964 to 1970 he starred in the NBC series Daniel Boone, portraying another historic figure of America's frontier days. Turning down the title role of McCloud, Parker retired from the film industry in the 1970s, after a short-lived 1974 sitcom, The Fess Parker Show.
After his acting career, Parker devoted much of his time to operating his Fess Parker Family Winery in Los Olivos, California. The winery is owned and operated by Parker's family, and has produced several different types of award-winning wines.
The operation includes over 1,500 acres (6.1 km2) of vineyards, and a tasting room and visitor center along the Foxen Canyon Wine Trail. In addition to wine, Parker is known for selling coon skin caps and bottle toppers at his winery, inspired by his Crockett and Boone characters.
Also noteworthy is the fact that Fess Parker was inducted as a Disney legend in 1991.
Parker is survived by his wife Marcella Belle Rinehart whom he married on January 18, 1960 and had had two children with: Fess Elisha III and Ashley Allen Rinehart. Fuenral announcements are pending.
We will miss you Fess. Thanks for all the memories. You are truly a Disney legend.