Disneyland will soon introduce a flying Dumbo into the all-new Magical fireworks show, part of Disneyland's Summer Nightastic promotion which begins June 12. Rather than an audio-animatronic machine floating above the Sleeping Beauty Castle, master puppeteer and longtime Disney collaborator Michael Curry, envisions a dancer in space performing on a wire 65 feet above the ground.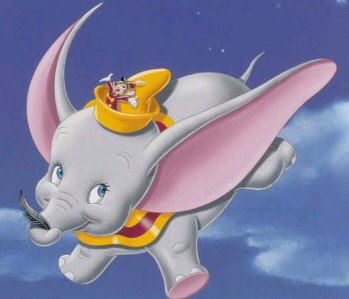 "It's all about the ears," said Curry. "I wanted it to look like he was flying." Curry wants to build a "puppet" device around an actual human performer.
Curry's puppets have appeared in the opening ceremonies of the 1996 and 2002 Olympics, the Super Bowl XXXIV halftime show, the Broadway production of "The Lion King," the Cirque du Soleil production of "Love" in Las Vegas, the "Aladdin" stage show at Disney's California Adventure and countless parades at Disney theme parks.
At the beginning of the Dumbo brainstorming process, Curry set up a video projector aimed at a blank wall in his production facility outside Portland, Ore., in the shadow of Mt. St. Helens. He proceeded to climb inside the projected Dumbo image and pretended to manipulate the ears with his arms. He was puzzled however as how to move the head, trunk and legs at the same time as the ears.
Careful to minimize the overall weight of the Dumbo puppet, Curry's crew crafted a lightweight frame with the puppeteer's upper body positioned inside the elephant's carbon-fiber head and the performer's lower extremities inside the pachyderm's inflatable body. With an economy of motion, the puppeteer manipulates both ears with one hand and the head and trunk with the other hand. The puppeteer's legs operate Dumbo's front legs while the elephant's rear legs remain motionless.
During the prototype phase, Curry's crew simulated 15- to 18-mph winds that caused the elephant's ears — each the size of a sheet of plywood — to turn into wind sails. Test puppeteers practiced for countless hours to master the art of flight.
The final challenge was to make the relatively small blue-gray elephant pop out against the night sky under the glow of a spotlight. The solution is a green body and pink head which look hideous in the daylight but very much like the original Disney animation during the fireworks show.
"I was almost in tears at how good it looks," Curry said.
The all-new Magical fireworks show made it's unofficial debut on June 3. MousePlanet reports that additional unannounced "soft opening" previews will occur on June 5, 6 and 8 at 9:15 p.m.
Below is a 14 second video clip. It is not good quality (not well focused) but will provide an idea of what the flying Dumbo looks like.