Have you ever fantasized about living on Walt Disney World Disney property? Sure it's a great experience to stay at one of several accommodations  located throughout the Walt Disney World property in Orlando but what if you could live there on a permanent basis?
Now for the first time in history, that opportunity is available with a new luxury residential community Disney is building – Golden Oak at Walt Disney World.
Golden Oak is planned to be a luxury residential resort community within the Walt Disney World Resort, designed by Walt Disney Imagineering, and owned and operated by a newly formed Disney subsidiary, Golden Oak Realty. It is being developed in the Magic Kingdom Resort Area near Bay Lake with the first few home sites to be available for purchase in late 2010 and a projected for completion date in 2011.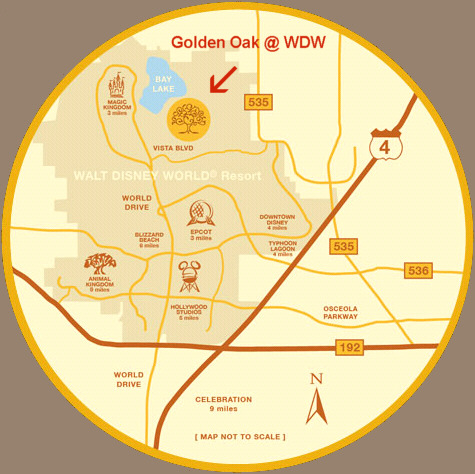 The community will include approximately 450 lavish custom single-family homes and estates priced between $1.5 million and $8 million, featuring themes such as Spanish, Mediterranean and Colonial. The homes will be spread out amongst four gracefully arranged neighborhoods – Carolwood, Carolwood Reserve, Silverbrook and Kimball Trace. Residents will receive benefits such as a private concierge, VIP access to Walt Disney World parks, home maintenance and more.
Here are just some of the ammenities planned for the families of Golden Oak:
Private VIP transportation
A suite of in-park benefits
Access to select special-event tickets
Community-hosted activities throughout the year
Additionally, Golden Oak Concierge services will be just a call or click away. It will be their pleasure to take care of such arrangements as:
Move-in services
Travel and private transportation
Disney parks and special-event tickets
Golf tee-times
Dinner reservations
Private VIP tours
At-home dinners and parties
Holiday home decorating
Grocery shopping and errands
Pre-arrival and post-departure home maintenance services
If that was not enough, home owners will have access to certain features at the nearby planned Four Seasons Resort Orlando (also within the Walt Disney World Resort). These include a full-service spa, restaurants, facilities for private events and an 18-hole golf course designed by Tom Fazio.
With such a limited number of homes and prices exceeding the range that most can afford, this will definitely be a community for the elite. However, if you have the means and are fortunate enough to be selected from the Priority Reservation List, Golden Oak offers a dream-come-true opportunity to never have to leave the magic of a Disney park/resort experience.
For more information, visit the official site of Golden Oak at Walt Disney World.