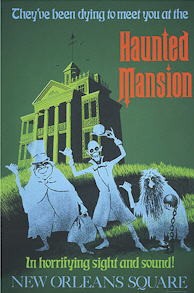 After winning a contest hosted by a Southern California radio station, two sisters from Santa Clarita will get to spend the night in Disneyland's Haunted Mansion. It is believed that this is the first time any guests have ever been allowed to do something like this although I wouldn't doubt if others have tried.
The sisters, Jessica (12) and Stephanie Sutton (10) will be joined by their parents in the mansion on Sunday — the ride's 40th anniversary.
95.5 KLOS Classic Rock of Southern California held the contest that provided the opportunity for a guest to stay a night in the mansion as part of it's 40th Birthday celebration. The Sutton sisters got the most votes on the station's Web site for their talent – Singing "Happy Birthday" with a dog barking in the background.
"They are excited and can't wait, and they were just jumping up and down," Roxane Requio, KLOS manager of marketing and promotions, said.
Disneyland will keep the ride open as normal Sunday. After the park closes, the Suttons will be allowed to move into the elevator chamber at the entrance of the ride about midnight where beds will be set up and they stay there until 6 a.m. A live-feed video will be shown on the KLOS Web site.
Now what I am curious about is do they have to simply stay in the elevator chamber all night or do they get to ride the attraction again and again and again? Or how about a walk through with lights on or even a behind the scenes tour? But to simply be kept in the elevator chamber all night – not sure how fun that would be.