The Walt Disney World Swan and Dolphin Resort, in partnership with Florida State University's Dedman School of Hospitality and Department of Management Information Systems (MIS)—both housed in the College of Business, has developed an application for Apple's iPhone and iTouch which allows users to access in-depth resort information from the handheld devices.
The application, which is available online at the Apple App store, is one of the first iPhone applications designed for an individual hotel property.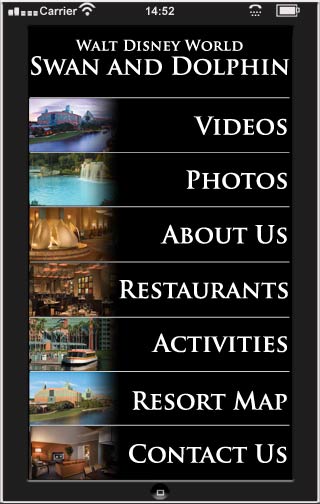 Whether a guest is planning a trip to the 2,265-room property located in the heart of Walt Disney World Resort or currently staying there, users of the application can access items such as specific information on the resort's guest rooms; investigate the various hotel dining options, navigate the property using a detailed map and experience the resort through a video tour.
"At the Walt Disney World Swan and Dolphin Resort we are constantly seeking new ways in which to improve our customer experience," said General Manager Paul Scott. "The development of this tool is one more way in which we can assist our guests in having the best possible experience during their stay with us."
Programmers in the FSU College of Business MIS program worked with the Walt Disney World Swan and Dolphin Resort to develop an application that takes advantage of the iPhone's and iTouch's large color screen and video capabilities. The application goes beyond text information to offer the user a visual experience featuring video provided by Hotel View, the world's largest travel and tourism library distribution network, as well as photography.
"We live in a world where information is sent and received instantaneously, and this technology allows companies to play a role in this communication arena," says David Paradice, department chair and the Sprint Professor of Business Administration. "Creating this cutting edge technology is the passion of our department and our students, and having companies incorporate it is a realization of its success in the marketplace."
The Walt Disney World Swan and Dolphin Resort application marks the first of what FSU plans to be an ongoing project to create similar iPhone and iTouch applications for other individual hotel properties. They already have begun work on an application for the Westin Times Square hotel in New York.
Walt Disney World Resort guests can access information, screen shots, and direct links to download the application at www.swandolphin.com/aboutus/iphone.html.