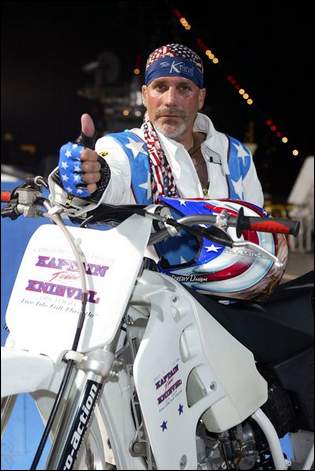 Daredevil "Kaptain" Robbie Knievel is partnering with Disney XD in February for a 2-D animated comedy series about a 12-year-old boy who wants to become the world's greatest daredevil. "Kid Knievel" marks the first animated show for Disney XD, a station that is a re-branding of Toon Disney and targeted at boys ages 6-14 and their families.
Knievel will serve as a stunt consultant on the series, which is in production for a fall 2009 premiere.
The series will focus on a boy (voiced by Chris Edgerly) — short in stature but big in heart — who, inspired by Knievel, overcomes incredible obstacles in his quest to become the world's greatest and most extreme daredevil.
Matt Jones and Danny Cooksey also voice roles in the show, which was created by Sandro Corsaro. Chris Savino is the executive producer and director.
" 'Kid Knievel' sets the tone for the animated series to come," said Eric Coleman, senior vp original series at Walt Disney Television Animation. "It has breakout characters, fresh designs, big laughs and great action."
Disney XD.com will present five 55-second original animated shorts ahead of the series premiere. The shorts will air thereafter on Disney XD.