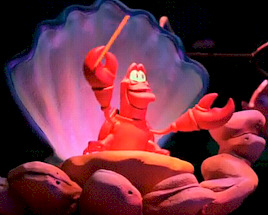 In a new video released by Disney Parks Blog, original animators of The Little Mermaid, Andreas Deja, Mark Henn and Glen Keane tour the upcoming attraction, "The Little Mermaid: Ariel's Undersea Adventure", which is scheduled to open June 3rd at Disney California Adventure.
The animators compare the audio-animatronic figures in the attraction to their original drawings produced for the film.
The video reveals quite a bit of the six minute dark ride. So if you can't wait for the opening next month, enjoy the video below.