The Walt Disney Company is partnering with Best Friends Pet Care to develop a full-service, luxury pet "resort" which will be located at the Walt Disney World Resort in Florida. The one-of-a-kind facility will cater to park and resort guests, as well as Walt Disney World employees, providing a full range of pet hospitality services including dog and cat boarding, day care and grooming services, and doggy day camp.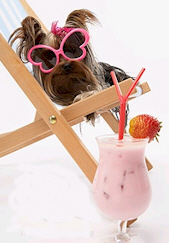 Pet guests will enjoy plush amenities such as luxury suites with television and raised bedding, activities such as nature walks and playgroups, and services ranging from ice cream treats to bedtime stories. Mmm… do they accept humans as well?
In anticipation of opening the new facility, Best Friends has assumed operating responsibility for the five existing pet boarding facilities in Walt Disney World Resort which are currently located at Magic Kingdom, Epcot, Disney's Hollywood Studios, Disney's Animal Kingdom and Disney's Fort Wilderness Resort and Campground. This will enable them to get to know pet guests and their owners even better before the new pet resort opens.
"We are thrilled to have this opportunity to come to Walt Disney World Resort to create the premier vacation destination for pets," said Dennis Dolan, president and CEO of Best Friends Pet Care. "This project is still in the veterinary hospital design phase, but our goal is to create a true resort destination for pets. This facility will be designed to fit into the Walt Disney World vacation experience and will be unlike anything else in the industry."
Kenneth Janik, regional manager, Walt Disney World Operating Participants says, "We are very pleased to have Best Friends working with us on this project. Best Friends is well-respected both for the quality of care they provide, and for their innovative pet amenities and hospitality services. We know they will deliver a unique experience for the family pets of our guests and employees that is both fun and consistent with the Disney approach."
The state-of-the-art facility will be located on Bonnett Creek Parkway in Walt Disney World Resort and is expected to open in 2010.