As the saying goes, "the show must go on." Disney's revamped version of Fantasmic will debut as part of their Summer Spectacular promotion but without one of its stars – Maleficent, the 40 tall fire-breathing Dragon. Apparently during rehearsals, the dragon broke down.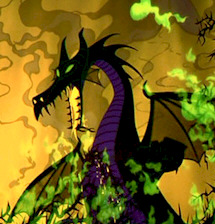 Miceage.com reported that the dragon's head fell off during testing. Elsewhere, there are rumors that its neck had snapped during a dress rehearsal. Disney themselves are tight-lipped regarding the ordeal but only confirmed that the 40-foot-tall, 10,000-pound mechanical dragon won't be joining the show until later in the summer.
The revamped show is actually an updated version of Fantasmic, which has been running for 18 years and, in the eyes of some, had grown a tad dated. The once-captivating battle between Mickey Mouse and a manually operated dragon puppet, for instance, now seemed clunky.
Even without its star, the show will proceed, said Suzi Brown, a spokeswoman for the Disneyland Resort. She said an image of the dragon projected onto a mist screen will serve as a stand-in until the real thing is in working order.
Brown did dispel one rumor. "Its head did not fall off," she said.
"It's a very technically complex mechanism," Brown said. "It's huge and it's just not ready."