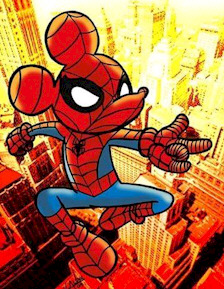 The Associated Press is reporting that shareholders of Marvel Entertainment Inc. have approved the company's acquisition by The Walt Disney Co.  The $4.3-billion acquisition will close at the end of the day, bringing Spider-Man, Iron Man, and 5,000 other comic-book characters under the same roof as Mickey Mouse, Goofy and Donald Duck.
Shareholder approval of the deal was expected. Marvel Chief Executive Isaac (Ike) Perlmutter, who owns 37 per cent of Marvel stock, supported it. He will be overseeing the Marvel business after the acquisition.
Marvel shareholders will receive $30 per share in cash, plus 0.745 Disney shares for every Marvel share they own. The deal is Disney's largest since it purchased Pixar Animation Studios Inc., the maker of Up and Cars , for $7.4-billion in stock in 2006.
Now it will be interesting to see how Disney might integrate Marvel characters into their company culture, if they do at all. Could we see a Marvel themes attraction come to a Disney park in the near future or will Disney simply keep the two separate? Thoughts?