The "mouse that started it all" is turning 90 and a new birthday portrait was recently revealed at San Diego Comic-Con. Titled "Spreading Happiness Around the World," the painting by legendary Walt Disney Animation Studios animator Mark Henn honors Mickey's 90th anniversary. The unveiling of the new work—the latest in a longstanding series of Mickey birthday portraits—took place during the panel "Celebrating 90 Years of Mickey Mouse with D23: The Official Disney Fan Club."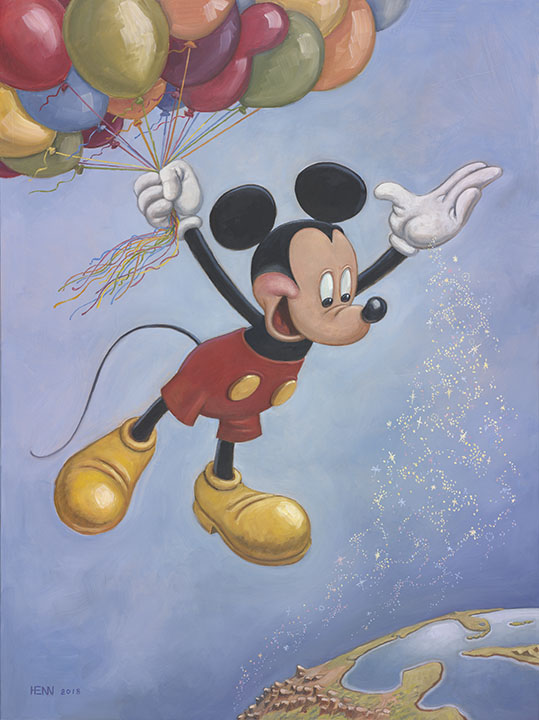 Since his big-screen debut in Steamboat Willie on November 18, 1928, Mickey has been the global ambassador for The Walt Disney Company. From the beloved Mickey Mouse Club to today's Mickey Mouse cartoon shorts, Mickey's optimistic outlook and endearing personality continue to delight fans around the world every day. D23 and the Walt Disney Archives, in partnership with Walt Disney Animation Studios, commissioned Henn to paint Mickey's official birthday portrait. Henn follows in the footsteps of artists such as Disney Legend John Hench, who crafted five of Mickey's official portraits.
"It is one of the great honors of my career to be asked to paint Mickey's 90th birthday portrait," says Henn. "I was greatly inspired by the portraits painted by John Hench. I wanted to capture some of the same style and sense of youth that John achieved in his portraits." The painting will appear on the Fall 2018 cover of Disney twenty-three, the quarterly publication sent exclusively to Gold Members of D23.
The portrait is just one of the many ways Disney is celebrating the landmark anniversary of this beloved character:
This fall, ABC will air a star-studded celebration of Mickey in honor of his birthday, with special guests, musical performances, and more.
D23 will present Destination D: Celebrating Mickey Mouse, a two-day event at Walt Disney World Resort featuring panels, presentations, and fun-filled entertainment.
Disney Channel will debut season five of the Mickey Mouse animated shorts, taking the Emmy® Award-winning series total to more than 90 shorts, including a special seven-minute extended-length birthday episode.
Walt Disney Parks and Resorts around the world will celebrate Mickey's 90th on November 18, marking the day with commemorative merchandise, photo locations, and more.
Beginning in late 2018 and into 2019, the World's Biggest Mouse Party, saluting Mickey and Minnie, will take place at Disney Parks worldwide.
Disney On Ice will salute Mickey as the "True Original" host of Disney On Ice since its inception in 1981 by creating Mickey's 90th pre-shows for productions touring the United States, Europe, Middle East, Africa, and Latin America.
Disney On Ice presents Mickey's Special Celebration, a new production showcasing Mickey Mouse's memories throughout the years, will launch in Japan in July 2018 and continue touring throughout the Asia-Pacific region until August 2019.
In France, 38 design and art schools will take part in "Mickey Is Art," a unique contest in which students will craft works of Mickey, inspired by their favorite artistic movement. The winning designs will be displayed this summer in 12 major train stations in France and for sale this September at Galerie Glénat in Paris.
Disney store will continue to celebrate milestone moments for Mickey Mouse with the Mickey Mouse Memories Collection (launched in January 2018), a monthly, limited-release series of 12 collectible plush, mugs, and cloisonné pins inspired by Mickey's most memorable movie roles.
Disney Publishing Worldwide will introduce more than 30 titles globally as part of Mickey's 90th, including books, arts & crafts, and comics.