As the continued process of re-themeing and enhancing takes place in Disney's California Adventure park, Mulholland Madness is next on the list of attractions to receive an update. The family coaster, which has been called "unimaginative" in the past, will get a Goofy's Sky Skool "refreshing" as part of the $1.1-billion effort to add a heavy dose of Mickey Mouse and friends to the under-performing theme park.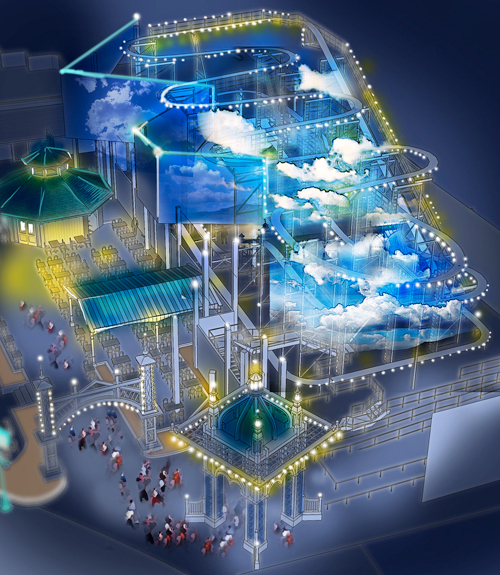 While not a horrible ride, Mulholland Madness is simply a stock "wild mouse" ride with little appeal beyond the typical wild mouse ride experience. The attraction has been blamed as part of the problem that earned Disney California Adventure its "on-the-cheap" reputation.
The new themeing will get its inspiration from the 1940 cartoon short "Goofy's Glider" where the storyline follows the clumsy anthropomorphic dog's attempts to teach a group of novice pilots how to fly in which things go awry, Goofy style.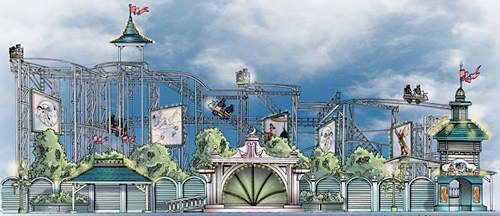 Riders will climb to the top of the 55-foot-tall coaster through clouds festooned with Goofy-shaped holes and pass a series of step-by-step billboards explaining how to fly before finally exiting through an airplane hangar façade.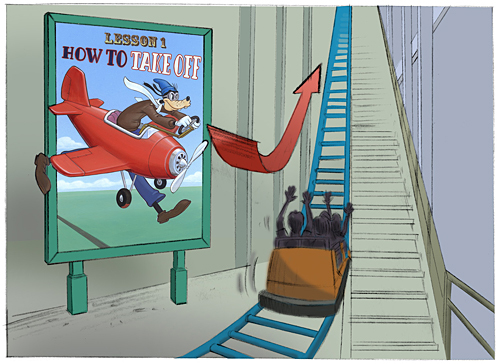 The Mulholland Madness cars themselves, which hold four riders, will get a modest makeover, replacing the automobile theme with a new paint job, Goofy graphics and a small winglet on the nose.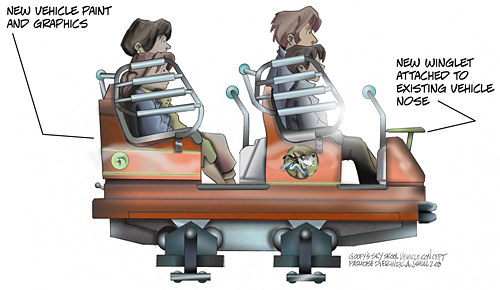 Scheduled to debut in 2011, the complete makeover will be the third attraction that Disney has retooled in the last three years in an effort to add more classic Disney characters to the California Adventure park, the other two being Mickey's Fun Wheel and the Silly Symphony Swings.
Concept artwork courtesy of L.A. Times.