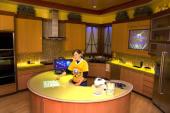 In February of this year, I wrote how Disney was planning on reviving the House of the Future, an attraction that had closed its doors in 1966 and was later demolished. Monday marked the official opening of this second generation "house of the future." But is it really that futuristic?
The new house of the future features technologies that are just now heading toward mainstream, such as touch-screen PCs and Microsoft's "Surface" table computer. "But compared to the original House of the Future, Disney's latest one isn't really that futuristic at all," said Jonathan Cluts, director of strategic prototyping for Microsoft Corp. In fact, strip away the high-tech add-ons and it looks like a stereotypical tract house.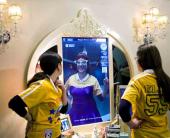 Unlike with the Monsanto house, "when the guests go through the home, they don't feel like they're in Jetson-land or that all this is some whimsical bit of imagination from the companies involved," he said. "Eighty percent of this stuff you could immediately go out and purchase," Cluts said. The rest, he added, is already technically possible, even if not readily available.
Still, it will be very cool to visit — it's in Disneyland for crying out loud! AJC.com does an excellent job describing what you might discover upon visiting the house.
Step into the foyer with one of the Elias family members, and the pictures and music change to fit their personality. When 10-year-old Robbie comes in, for instance, his favorite music plays and pictures of his soccer team fill the photo frames. When his mom, Patti, comes home, it all switches to easy listening and family pictures.

Set some groceries on the kitchen counter, and a computer recognizes what they are and starts suggesting recipes. The big flat-screen computer in the corner does a quick check of what's in the pantry and fridge, preparing an electronic grocery list of needed items as it does.

At dinnertime, place a cellphone on the dining room table and you'll automatically see in the table's glass surface pictures that were taken with the phone at school or work.

Push a button, and the living room transforms into a home theater. Drapes close automatically, lights dim and a 100-inch flat screen TV pulls up the list of movies in the home server or available for download online.

Bedtime might be best. As his dad reads Robbie "Peter Pan," the room comes to life, thanks to voice-recognition computers and projection systems. Tinkerbell zooms through the air and an animated film of pirate ships wraps the room. A virtual cannon can fire a virtual cannonball through virtual clouds.

In her room, Robbie's teenage sister Chelsea has a "magic mirror" that lets her virtually "try on" different outfits and looks.
The 5,000-square-foot house, whose total cost is around $15 million, is an updated version of a Disney staple of the 1950s and 1960s, the Monsanto House of the Future, an elevated, pod-like plastic home that was supposed to depict life in way-off 1986. And while this new version of that same home will not seem as "futuristic" as the original did, it will still resemble technologies that many of us do not have in our homes today, even though they are available.