On July 3rd, the new Mark VII Monorail Red was officially placed into passenger service. I only wonder how long it will last? Reports have circulated over the past few months that the new monorail, which arrived last December, has been plagued with problems including issues with proper ventilation.
While the nose and tail cones of the new Monorail have air conditioning, the three middle cars do not which can make for a very hot ride experience during Anaheim's summers. Apparently air scoops have recently been added to each of the three passenger cabins in an effort to provide additional ventilation and cooling. However, cast members are reported as saying that the scoops are not enough to keep the cabins cool during the heat of the afternoon.
MousePlanet reported that Monorail Red was brought out briefly for pre-opening testing Thursday morning along with Monorail Purple, the lone remaining Mark V Monorail. Shortly thereafter, both vehicles were sent backstage for several hours while engineers resolved what cast members called a "zone intrusion" problem in the system. Monorail Red finally took its first passengers around 5 p.m. Thursday evening, and was in service for about four hours. The new monorail was briefly put into service Friday morning, but was pulled out of service when temperatures began to climb midmorning. According to reports from readers who were in the park this weekend, Monorail Red did not return to passenger service on Saturday or Sunday.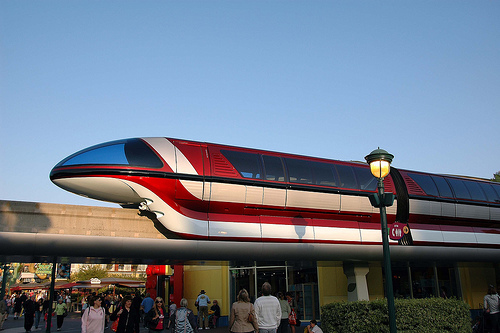 Monorail Red along with two additional new Monorails are being built to remedy the many problems Disneyland has experienced over the years with the older, aging Monorails. The biggest change the new trains have compared to the old is their look. The first Monorail has blue glass and red stripes that change color in the sunlight. The next two cars will be blue with purple glass and orange with blue glass. Additionally, bench seats will face the windows, allowing visitors a full view of the parks, Downtown Disney and the Disneyland Hotel. The capacity and speed are reported to remain the same.
I am shocked however that air conditioning was not included in the new units. Like anyone really wants to ride around the park in one of these when temperatures are in the hundreds. Disney will have to figure out how to keep the cars cool or be forced to operate them only when weather conditions are nice.