Are you planning on spending your New Year's Eve at Disneyland Resort? MousePlanet published some great tips on making the most out of your New Year's Eve experience at Disneyland and I thought I'd repost here. In fact, much of this advice is good for any day that the parks are overly-crowded.
Enjoy!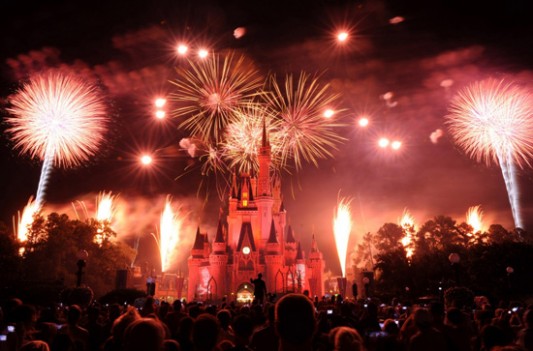 Pick Your Spot By Night's End
Decide if you want to end your night with fireworks and Fantasmic at Disneyland, or ElecTRONica and World of Color at Disney California Adventure. Park hopping may not be allowed if the parks get too crowded, so pick a park and stick with it.
Get To Park As Early as Possible
Plan to be at the park ALL day. No really! Both parks may reach capacity before noon, and you may not be allowed to enter or re-enter the park once the crowd-control restrictions are in place. This is not the day to go "off-site" for lunch, or return to your hotel room for a nap.
Be Willing to Skip Stuff
This is not the day for riding every single ride and seeing every single show. Utilize the Fastpass service wherever possible to reduce wait times, but be prepared for long lines. If you have a iPhone you can download a diversion like the Wishing Stars application to play between rides, or pick up a copy of the Disneyland edition of the Hidden Mickeys book to read while you're waiting in line, and use a smartphone ap like Touring Plans to keep tabs on wait times.
Be Flexible
While a little planning can help make the day more enjoyable, you should also be prepared to be flexible and change your plans on the fly. Expect to grab a meal on the run if your preferred restaurant is too busy, skip a favorite ride if the line is too long, and explore parts of the park you may never have seen before.
Visit Movie-Based Attractions
Whether it's Great Moments with Mr. Lincoln, Captain EO, It's Tough to be a Bug, or  Muppet*Vision 3-D, movie-based attractions offer an opportunity to get out of the crowds and sit down, even if just for 15 minutes. Visit the Blue Sky Cellar in DCA, explore the Disney Gallery on Disneyland's Main Street, U.S.A., or go play with some new and not-so-new technology in Innoventions.
Don't Waste Your Day For the Perfect View
Unless you're willing to get there at park opening and sit on a bench for hours and hours, don't even worry about seeing the midnight fireworks from directly in front of Sleeping Beauty Castle. There's a large group of folks who make it an annual tradition to hold that prime bit of real estate so they'll have the perfect view of the festivities, and the area will be completely full by mid-morning.
One strategy for getting a good view of the fireworks is to wait until just after the Believe… in Holiday Magic show ends (it's scheduled for 8:45 p.m. on December 31st), and then grab a spot as people leave that show. You'll still have a three-hour wait until the Midnight show, so bring something to pass the time. You may also opt to view fireworks near "it's a small world," which is usually less crowded than Main Street.
Bring Warm Clothing and Be Able to Layer
It can get really chilly inside the parks at night. Locker rental is much cheaper than purchasing Disney-priced sweatshirts, scarves and gloves, so plan ahead.
Wait For the Rush to Pass
The Resort often suspends tram service immediately following the fireworks shows due to the number of people trying to exit the parks, so wait around a bit if you don't want to walk back to the parking structure.
Great tips from MousePlanet. Of course if you are like me, you'll completely avoid the park during busy times such as these. To be in the park during these type of events is not for the faint-hearted. However, if you dare, there is no better place to spend New Year's Eve, that is if you follow these and other steps to ensure the best experience.