Each year, many people from all over the world make the decision to visit Disneyland Resort in Anaheim during their vacation time. If you have small children and/or don't plan properly, a visit to the resort can quickly become anything but a vacation. What is supposed to be a fun day (or days) can leave you completely exhausted and in need of another vacation just to recover from your first. On the other hand with proper planning as well as knowing some of the inside secrets of how the parks operate, a visit to the Disneyland Resort can be a most enjoyable experience – one that you will remember for a lifetime.
Following are some tips that if followed will not only help you get the most out of your Disney theme park experience but may save you some money in the process.
1. Consider Off-Site Lodging
Staying on Disney property is a great experience but not as necessary in Anaheim as it would be for Walt Disney World in Orlando. There are a variety of great hotels in the immediate vicinity of the park, some so close you can walk to the park.
The Disneyland web site lists a variety of "Good Neighbor" hotels that you can stay at, most of which are much more affordable than the three hotels Disney operates on property.
If staying off-property is not an option but you are still on a budget, Paradise Pier is the least expensive of the three Disney Hotels.
2. Avoid Parking in Disney Parking Lots
This tip is for those who are lodging off Disney property. If you are within walking distance of the park, then by all means walk. However, if you are any further than a few blocks, you may be inclined to drive. If you do, expect to pay $11 a day to park your car ($13 if you have a motorhome or are towing a camper). And if you decide to go back to your hotel in the afternoon only to return later in the day, you are going to pay double that.
An alternative is to utilize the Anaheim Resort Transit System (ART) which will transport you to Disneyland from many of the hotels in the area. Rates are as follows: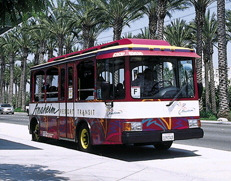 Adults (10 years and older)
One Day – $3
Two Days – $6
Three Days – $6
Five Days – $12
Children (3-10 years)*
One Day – $1
Three Days – $2
Five Days – $4
* Children 2 and under are free
Check with the hotel you are staying at to see if ART picks up at that location. You can also visit their web site for the most up to date information.
3. Make Sure Your Favorite Attractions Are Open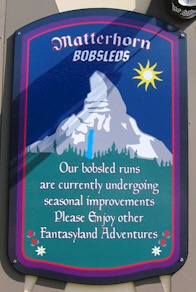 Disney is continually refurbishing and performing maintenance on the park and its attractions so that everything stays in tip-top shape. Add to this the fact that the park stays open 365 days a year. Because if these two facts, there are bound to be times that your favorite attraction, show, eatery or even shop is closed due to refurbishment and/or improvements.
So, if you are just dying to ride Indiana Jones, Splash Mountain, Twilight Zone Tower of Terror or any other number of attractions, make sure it is not scheduled to be closed at the same time you plan to visit the park. You can do this by checking the Disneyland Resort Calendar page to see what might be closed during the time frame you plan to visit.
If you want to view a broader range of which attractions and places are closed as well as the estimated duration of their closure, check out MousePlanet's weekly Disneyland Park Update in which they list current and future closures towards the bottom of the report.
4. Don't Try To Do Everything in One Day
It is impossible. Even if you are able to accomplish such a feat, you will be so exhausted at the end of the day that you'll wonder if it was worth it. In reality you need at least three days to do everything you want to do at both parks. Five days is even more ideal, especially in the busy seasons (summer and Christmas).
The more time you provide yourself, the more enjoyable your experience will be.
For example, my family and I once spent 5 days at the resort. A typical day would be to head to Disneyland an hour or so after it opened (Disneyland opens before California Adventure), enjoy a portion of the park (tip coming later) till about 1-2pm, have lunch and then head back to the hotel to rest and relax. We'd return to the park around 5-6pm, staying till close. We not only accomplished everything we set out to do, we did it in a most relaxing and enjoyable fashion.
5. Utilize the Fast Pass System
Fast Pass was designed for attractions that have longer wait times. It allows you get a ticket via a kiosk located near the attraction and come back at a later time (usually 40 minutes or longer) where you often enter a separate queue and most of the time walk right on. You can only obtain one Fast Pass at a time with the exception of the tips provided at the end of this section.
One of the best ways to take advantage of Fast Passes is to get one for the attraction you wish to ride and then visit less popular attractions in the direct vicinity of the one you are waiting for.
For example, if you want to ride Indiana Jones in Adventureland, grab your Fast Pass and while you are waiting, visit the Enchanted Tiki Room, ride The Jungle Cruise, climb Tarzan's Treehouse and even visit the shops in Adventureland. Before you know it, it will be your turn to ride Indiana Jones and at the same time, you have enjoyed all the other attractions in the area while you waited.
Here is a list of attractions at both parks that are currently on the Fast Pass system:
Disneyland
Autopia
Big Thunder Mountain Railroad
Buzz Lightyear Astro Blasters
Haunted Mansion (from late September through early January)
Indiana Jones Adventure
Roger Rabbit's Car Toon Spin
Space Mountain
Splash Mountain
Disney's California Adventure
California Screamin'
Grizzly River Run
Mulholland Madness
Soarin' Over California
Tower of Terror
One thing to remember is that the Fast Pass system is on two separate computer networks – one for Disneyland and one for California Adventure. What this means is that while you cannot have more than one Fast Pass ticket at the same park at the same time, you can have two Fast Pass tickets if they are for separate parks. In other words, you can get a Fast Pass for Space Mountain which is in Disneyland, hop on over to California Adventure and grab one for Soaring Over California at the same time. Keep in mind that you'll do a lot of extra walking should you decide to take advantage of this often.
One final tip regarding the Fast Pass system is that there are two attractions that are not connected to the network – Roger Rabbit's Car Toon Spin and Grizzly River Run. This means you can grab a Fast Pass for either of these attractions, even if you already have an unused one for other attractions in the same park.
6. Do a Portion of the Park at a Time
Disneyland itself is about 100 acres. California Adventure is smaller but between the two parks, you will typically do a great deal of walking. That is why it is a good idea to have a plan and visit one land at a time.
In other words, don't ride Space Mountain, then decide you want to ride Splash Mountain which is on the complete opposite end, then decide to go to Toon Town, then decide to head back to Tomorrowland to ride Buzz Lightyear and then… okay, you get the point.
7. When Disneyland Gets Busy, Head Over to California Adventure
California Adventure is always less crowded than Disneyland. This is especially true during Disneyland parades, fireworks shows and Fantasmic. Also keep in mind that California Adventure opens later than Disneyland and closes earlier as well.
8. DO NOT Eat Inside the Parks
We have some very good friends who visited the Disneyland Resort a few years ago and not only complained about how much money they spent on food, but how unsatisfying it was. I asked them if they had eaten in Downtown Disney. They replied, "Downtown what?"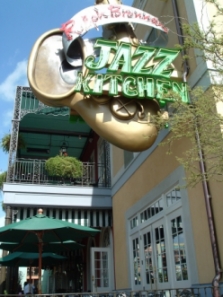 Even though they hopped between two parks, they completely missed Downtown Disney which sits between and just to the left (or right – depends which way you are looking) of the parks and offers a variety of sit-down restaurants and eateries, all with better food and that you won't have to take out a second mortgage to afford.
There is Rainforest Cafe, ESPN Zone, House of Blues, Naples Ristorante e Pizzeria, Tortilla Jo's and if you desire finer dining, try Catal Restaurant or Ralph Brennan's Jazz Kitchen. Not to mention that there are tons of good restaurants in close vicinity to the resort as well as the ones in the Disney owned hotels as well.
I'm not saying to completely avoid eating within the parks as you may want to dine at The Blue Bayou located in New Orleans Square or The Vineyard Room located in the Golden Gate section of California Adventure. Just save most of your "park food" experience for light snacks such as the ice cream cones at the Carnation Cafe on Main Street or the Dole Pineapple Whips (my wife's favorite) at Tiki Juice Bar just outside the Enchanted Tiki Room.
9. Utilize Priority Seating For Dining
Disneyland does offer 'Priority Seating' requests at select restaurants throughout the Disneyland Resort. A priority seating request is not a typical dining reservation but will lessen the time you wait for dining, especially on busy days.
If you like to plan ahead as I do, schedule your dining experiences throughout your stay at the magic kingdom and in doing so, call ahead and arrange Priority Seating for each restaurant you want to eat at. Best thing about Priority Seating is that you can arrange this up to 60 days in advance.
10. Take Advantage of Shorter Wait Times When Events Are Taking Place
Disney theme parks are not all about attractions. There is a great entertainment aspect to the Disneyland and California Adventure experience as well. Some of the major entertainment venues they offer include Fantasmic, multiple parades and the fireworks shows.
When any of these are taking place, throngs of people stake out a place in the park and enjoy the entertainment. That means they are not riding attractions. It is during these times that you can often walk on rides. So if you are not going to watch the various Disney shows or have already seen them, take advantage of these times to ride some of the more popular attractions.
11. Try To Avoid Visiting Park in the Summer and on Holidays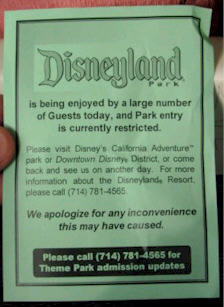 Not only is the Disneyland Resort the most crowded in the summer, there are days where it becomes unbearably hot. And while Disney does an excellent job trying to keep guests cool in ride queues, an entire day in the heat will wear you out and make the day most miserable.
Holidays are the same. Lots of people want to visit Disneyland Resort on Fourth of July, Christmas, New Years Eve and other holidays. Many times Disneyland becomes so crowded that cast members stop letting people in.
So if at all possible, try to avoid visiting the resort during these times. In fact, the best time to visit the resort is early September, when the weather is warm but not too hot, school has started and crowds are light. The next best time to visit is May.
If you go when Disneyland is less busy, keep in mind that the park hours are shorter, more rides may be closed for refurbishment and Fast Passes may not be offered.
12. Don't Pass Up the Fine Details
Probably one of the most important pieces of advice I can give you to make the most out of your Disneyland resort experience is to not pass up the fine details. Sure the resort is fun to visit and has some great attractions. But most of all, at least for me, it is a place to escape reality. In Disneyland especially, when you walk underneath the tunnels to Main Street U.S.A., you are entering another world, a world that is chock full of details that make it such a unique place.
Here are some of the finer details that people often miss:
Visit the firehouse on Main Street and look up towards the second floor. That is where Walt Disney himself kept an apartment. It is still there today.
Visit Snow White's Grotto which is on the right side of the castle as you are heading in. It is a nice place to get away from crowds and provides great photographic opportunities.
If you have small children, take lots of pictures of them in Toon Town, especially inside Mickey's House. It will look like your kids are in a real cartoon.
Visit Tom Sawyer's Island. In the eight times I have been to Disneyland, I did not visit Tom Sawyer island until the last time. It is a great place to explore.
Enjoy all the theming that is provided in many of the attraction's queues. This is especially true of the Indiana Jones attraction.
Visit the Haunted Mansion often. There is so much detail that you will undoubtedly see something new every time.
When in Fantasyland, look up at the window above Snow White's Scary Adventures. The queen from the film will draw the curtains and peer out the window often.
I could go on and on but this post is already too long.
The main point is to enjoy all the detail that Disney Imangineers put into the park. Enjoy the experience of being transported into another world. There is so much to see and do.