This spring promises action and adventure on the high seas as Disney Cruise Line features "Pirates of the Caribbean: The Legend Lives On." This cruise will take guests to world's end and beyond, led by actors Lee Arenberg and Martin Klebba – better known to fans as Pintel and Marty from all three "Pirates of the Caribbean" films.
This high-seas journey promises an earful of behind-the-scenes movie lore, tomfoolery, and exclusive treasures .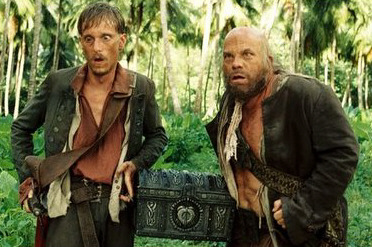 Setting sail March 8 to 12, 2009, the Disney Wonder will host this pirate-themed party, traveling to Nassau and Castaway Cay. With 10 distinctive decks, the ship offers luxurious staterooms, restaurants, pools, shops, and first-class family entertainment. Guests must register for the event to participate in the scheduled pirate-themed activities.
A private welcome reception with Lee, Marty, and renowned artist Dave Avanzino will kick off the first day. Both actors are extremely enthusiastic when talking about the upcoming trip.
Lee says, "It's always a pleasant surprise when we're asked to do these things. I've been on a Disney Cruise before and it's a million times more fun than you can imagine."
On the other hand, Marty points out that he has never been on a cruise … "except for two years on the Black Pearl," adds with a laugh.
The four-day itinerary consists of a seminar with the actors, event-exclusive gifts, an up-close look at actual props from the movies, private meet and greet with the actors, an interactive viewing of "Pirates of the Caribbean: The Curse of the Black Pearl," surprise entertainment and activities on board as well as at Castaway Cay, special dining times, availability of limited edition movie merchandise, and a hands-on workshop with guest artist Dave Avanzino.
Tickets for the event are $250 per person (all ages) plus the cost of the cruise. For more information on this special event, visit the The Legend Lives On page.