If you have been to Disneyland in Anaheim recently, you most likely noticed the construction walls around the Rivers of America and even have spotted the drained riverbed while the attraction underwent a lengthy refurbishment. Now that the rivers are being refilled, the LA Times reveals what new and exciting changes guests to the park can expect to see.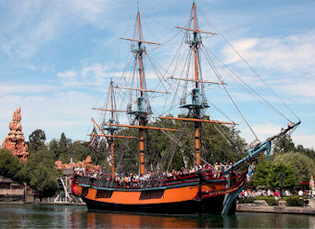 Refreshed riverbank scenes, a more concise plant palette and a newly focused storyline are just the beginning of additions and enhancements to this most beloved themed area of the park.
While mechanical refurbishments were put in place such as a new guide track for both the Columbia sailing ship and Mark Twain paddle-boat, Imagineers went back to the original concept art for the Rivers of America drawn by Disney artists Marc Davis and Sam McKim for inspiration for the enhancements that were added during this current rehab.
"Through the years, the river had grown rather eclectic," said Walt Disney Imagineer Kim Irvine, who oversaw art direction of the rehab. "The scenes and sets didn't really tell a clear story."
Now the circular waterway will boast four distinct regions based on famous American rivers: the Mississippi, Columbia, Potomac and Rio Grande.
Here are some of additions/enhancements that were made during the four month refurbishment:
A new 2,500-foot-long guidance track was installed for the Columbia and Mark Twain.
The Mark Twain received a new paddle.
Nine docks were replaced.
4,000 shrubs and 130 trees were added to the newly themed banks.
26 animal figures have been placed along the shore.
A revised narration has been created which will point out the new features along the river.
The burning settler's cabin is now the newly remodeled home of Mike Fink, the friend and rival of Davy Crockett. The pair can be heard arguing as the riverboat glides past the scene.
The river now traverses through four distinct and diverse environments including the Mississippi where colors are grayish green, and the plants are weepy and droopy, evocative of the New Orleans Square surroundings; the Columbia where riverbanks feel more lushly forested, populated with firs, pines and cedars; the Potomac where plantings change color all year long, making for a varied palette; and finally the Rio Grande features a more arid desert look, with warm reds and oranges, befitting the rockwork surrounding the nearby Big Thunder Mountain Railroad roller coaster.
The map below provides a glimpse of how this newly-themed land is laid out.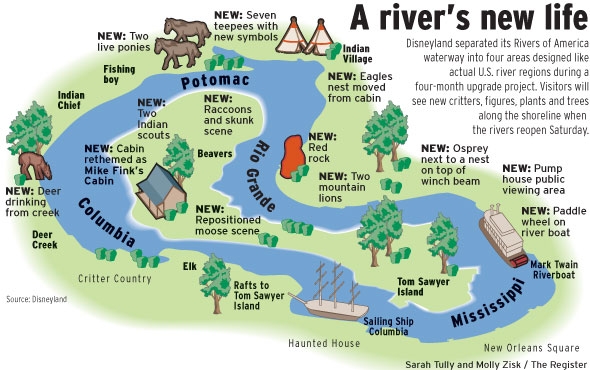 I'm sure the map will not do justice to seeing the changes in person. So, next time you visit the park, be sure to look for these changes.