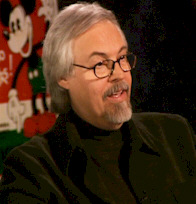 Wayne Allwine, a Walt Disney Studios voice-over artist who was the voice of Mickey Mouse for more than three decades, died of complications of diabetes early Monday morning at UCLA Medical Center. He was 62 years young. Wayne was the third voice of Mickey Mouse, a role he assumed from Jimmy MacDonald.
Allwine's very first appearance as Mickey was voicing the animated lead-ins for The New Mickey Mouse Club in 1977. His first appearance as Mickey for a theatrical release was in the 1983 featurette Mickey's Christmas Carol and he has provided the voice for Mickey Mouse ever since. In this featurette he also voiced the old man on the street at the start of the movie and the two weasels in the Christmas future scene.
Wayne also starred in films such as The Prince and the Pauper (1990), Mickey, Donald, and Goofy: The Three Musketeers (2004), the TV series Mickey Mouse Works (1999-2000), House of Mouse (2001-2002), and Mickey Mouse Clubhouse (2006-2009). He provided Mickey's voice for nearly every entry in the popular Kingdom Hearts series of video games. However, a new voice actor is very likely to portray Mickey in Kingdom Hearts: Birth by Sleep. Wayne had already finished recording for the Nintendo DS game Kingdom Hearts: 358/2 Days.
Wayne has done the voice of Mickey Mouse longer than anyone else as of 2009. Walt Disney did it from 1928 to 1947 while Jimmy MacDonald did it on a regular basis from 1947 to 1953. In addition to his voice work, Allwine had also been a sound effects editor on Disney films and TV shows including Splash (1984) and Three Men and a Baby (1987); as well as Innerspace (1987), Alien Nation (1988) and Star Trek V: The Final Frontier for other studios.
In addition to his wife, Allwine is survived by his children from previous marriages, Erin, Alison, Peter, Christopher and Joshua; and a grandson, Isaac.